Thousands of Gmail accounts accidentally wiped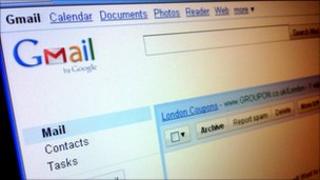 Thousands of Gmail users have been left with empty inboxes after their accounts were accidentally wiped clean.
As well as missing e-mails, many reported that their contacts had also disappeared.
Google, which operates Gmail, said that a small percentage of its users had been affected.
Some accounts have already been restored, suggesting the data was not permanently deleted.
In a statement, Google said: "This is affecting less than .08% of our Gmail user base, and we've already fixed the problem for some individuals."
The company said that engineers were working to restore service.
Google does not release official figures for the number of Gmail accounts, however it is believed to be between 150 million and 200 million.
That would mean that around 150,000 users were affected by the problem.
Gmail outages on this scale are rare, according to Alex Chitu, whose blog Google Operating System, charts the company's cloud computing initiatives.
He told BBC News that although service was being restored, many users were angry about the way the outage had been handled.
"Today's issue shows that Gmail is far from perfect and Google should do a better job at communicating with users.
"When you can't access your message and your Google account is disabled, it's nice to know why," he said.