UK video games and special effects firms 'need support'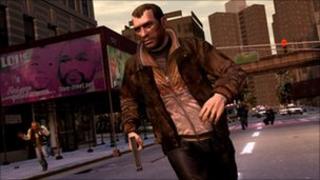 Poor education and bad publicity are damaging the future of Britain's hi-tech industries, according to experts.
A report published today argues that the country is losing crucial ground in video games and special effects.
It found that many people did not realise Britain was a major force in such industries - and that those who did were not being well trained.
But the review suggests applying a range of remedies could help Britain enjoy a "golden age" of success.
Industry giant
The independent Skills Review was commissioned last year by the government as part of its investigation into how growing industries such as video games and movie effects could be supported.
The report's authors identified several major stumbling blocks to success, not least a general lack of awareness of Britain's current gaming industry.
The UK is the world's fourth largest producer of video games, with an industry set to break £1bn in the next three years.
Despite the fact that this makes it larger than the country's recorded music industry - which is famous worldwide - the study found that just 3% of young Britons realised that blockbuster titles such as Grand Theft Auto were developed in the UK.
Similarly, awareness of the UK's important role in special effects - including production of the visuals seen in hit films such as Inception and the Harry Potter series - was low.
"We need to transform young people's passion to play video games into a desire to make them, whilst equipping them with the right skills for the industry," said co-author Ian Livingstone, president of British games studio Eidos, which created popular titles including Tomb Raider.
Lack of support
The review also found a lack of educational support for the skills required to succeed in both industries, in areas such as maths and physics as well as art and design.
It found that only a quarter of graduates who studied video games design at university were taught maths as part of their degree - despite it being considered an essential skill by industrial leaders.
"Growth in the UK is being held back by a lack of people with the right skills," said Alex Hope, the review's other author and managing director of leading visual effects company Double Negative.
"We need people with the specialist skills, computer science, physics, maths and art on which our industry relies."
To combat this growing problem, the review recommends a series of fixes that it says could help usher in a new period of creativity and success that could match similar creative booms in the 1960s and 1980s.
Among the ideas it puts forward are making computer science part of the national curriculum and breaking down boundaries that currently exist between creative subjects like art and maths.
Although the review was commissioned by Culture Minister Ed Vaizey, it is not clear whether the recommendations will be turned into legislation.
In the past, Mr Vaizey has rejected requests from the games industry for tax breaks - it claims they are necessary to help retain the most talented staff.
As a result, industry leaders have said that the country is suffering a damaging "brain drain", where top British graduates are being tempted abroad by the promise of greater success.
Last week, video games industry body Tiga renewed its request for assistance, arguing that it deserved greater attention than the heavily subsidised British film industry.
"The video games industry is an industry of the future - hi-tech, highly skilled and export-oriented," said Richard Wilson, Tiga's chief executive.
"If the coalition government is serious about its intention of rebalancing the economy, then it should invest in the UK video games industry."