Confusion over Egyptian blocks on web protest tools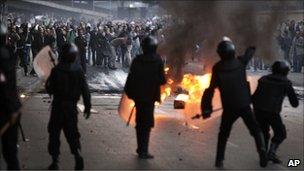 Confusion surrounds the use of web tools such as Twitter and Facebook that have been used by protesters in Egypt to co-ordinate action.
The Egyptian government denied taking any action to restrict use of the web, saying it respected freedom of expression.
However, Twitter said it is being blocked but said many people have found ways round the restrictions.
A Swedish mobile video site also reported that it had been blocked.
"The government would not resort to such methods," the government's Magdy Rady said of the blocks.
However, overnight Twitter put a message on its official PR stream saying that use was being restricted.
Reports also suggested that Facebook, which has been used to co-ordinate many of the protests, has been occasionally blocked.
However, currently, people can access the site, said Herdict overseer Jillian York. Facebook also confirmed the site continued to be accessible.
Facebook has not said whether it has implemented any technical measures to keep the site up and running.
The social network, which has more than 600m users, recently was forced to intervene when it emerged that political protest pages in Tunisia were being hacked and passwords stolen, seemingly at the behest of the former government.
Details of the blocks in Egypt began to emerge on Tuesday afternoon, as thousands of people joined a "day of revolt" against the government of President Hosni Mubarak.
Initially it was unclear whether state authorities were blocking internet access or if mobile networks were simply overloaded by the numbers of people gathering in the streets.
"Blocking is not official policy in Egypt, so block pages are not given to users when a site is blocked," said Ms York.
"It is impacting both Twitter.com and applications."
The block had previously been confirmed by BBC readers and telecom operator Vodafone Egypt, which sought to reassure customers that it was not responsible.
"We didn't block Twitter - it's a problem all over Egypt and we are waiting for a solution," it said.
Some Twitter messages - many tagged #jan25 to show they were in support of the demonstrations - seemed to have got through via text messages and some third-party applications. Egyptian blogs have also posted instructions for getting around the block.
Bambuser, a service that allows people to stream live video from a phone to a website or a Facebook page, said that it had been blocked.
"We are working hard to ensure access resumes for the Egyptian community and stand by them in their quest for the right to protest," it said.
Anonymous came to prominence for its cyber-attacks on the websites of companies it deemed to be anti-Wikileaks.
It has since turned its attention to supporting the protests in Tunisia and Egypt.
The group uses so-called "denial-of-service" attacks, that seek to swamp websites with large volumes of traffic, until they are knocked offline.
The group was one of many that also offered advice to the protesters on how to evade blocks on sites and services.
However, some sites appear to have escaped the block.
Protesters are also turning to other digital tools to help.
The digital blocks come as anti-government protesters clashed with police in Cairo and Suez in defiance of an official ban on any protests.
Public gatherings would no longer be tolerated, the interior ministry said.