Profile update: Your teacher has now joined Facebook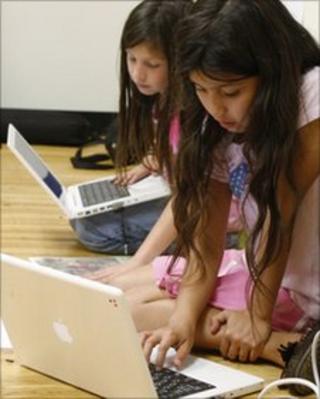 For children e-mail is "something your dad does" and their search engine of choice is as likely to be YouTube as Google.
But with many of the disruptive technologies that drip-feed children in their leisure hours banned within school buildings, what hope do teachers have of engaging their tech-savvy pupils?
At Bedford Primary School in Liverpool, social networking is embraced as part of the daily routine of school and learning.
It has joined Radiowaves, a dedicated school-based social network, which now boasts 13,000 schools in 22 countries.
For assistant head teacher Amy Barton, social media has to be part of the curriculum.
"Social media is challenging the traditional view of teaching. You can't get away from it, we've got to teach it," she said.
School websites have traditionally been set up to inform parents but tend not to be the destination of choice for pupils. It is very different at Bedford where children see their Radiowaves pages as "their website".
These days any visitor to Bedford School needs be prepared for the full multi-media onslaught of the under-11s as they interview, record and photograph every moment for inclusion on the site.
The platform allows for images, audio, video, blogs and podcasts to be uploaded and shared, either just within the school, with other schools on the Radiowaves network or with the larger world, including parents.
The site has attracted the attention of the British Council which has seen the potential for forging real and long-lasting links with schools around the world, beyond the occasional fuzzy video link-up.
It has recently funded four pupils from Bedford Primary School to visit schools in China. Every moment was recorded in a video diary and viewed back in Liverpool via Radiowaves.
Twitcam
Chris Hague is one of the directors of Radiowaves.
"We set up at a time when schools were shutting the door on social networks, we were saying that they needed to embrace them," he said.
"Our first priority was to make sure it was safe."
All external comments are monitored by Radiowaves staff and take-down of anything considered inappropriate, such as a pupil publishing personal details about themselves is taken down immediately.
Using such technology helps children understand ICT lessons, he thinks.
"Kids get excited when they have a microphone in their hands or make a video or a blog entry. It makes sense of ICT in the school," he said.
Many schools still block access to YouTube, Facebook, instant messaging and other technologies that are the favourite haunts of young people.
But the tide could be turning, thinks Professor Stephen Heppell, a leading educationalist who has been advocating the use of radical technology in schools for years.
"Half of schools have now unblocked YouTube. Five years ago it was one in every 1,000," he said.
Twitter has been playing a valuable role in one of the projects he is currently working on - to prepare children in Year Six of primary school for the transition to secondary school.
He has linked children up with their contemporaries in Australia who are currently on summer holidays, ahead of their first term at secondary school.
The link-up has also allowed the UK pupils to get first-hand accounts of the current floods affecting Brisbane.
Twitter can be a valuable resource for teachers too and Prof Heppell has recently set up a project known as Twitcam, which allows new teachers to post videos of themselves teaching and invite comments on what they were doing right and wrong from more experienced practitioners.
He thinks that teachers should also set up Facebook profiles, an account which should be quite separate from any personal Facebook pages.
"They can call themselves something related to the subject they teach such as 'Geography Steve' or use another form of Miss such as Missy as Facebook doesn't allow Mr or Mrs titles," he said.
Although Facebook generally frowns on users creating two accounts, it has actively encouraged teachers who have wanted to do it, according to Prof Heppell.
Collaborative working
Teachers setting up Facebook accounts should not befriend pupils, rather allow the children to take the initiative, Prof Heppell advises. They should not read their pupils' Facebook pages and should never chat via instant message.
But for giving children reminders about things such as impending exams, offering a space for informal chats outside of the traditional school environment and allowing parents and children to keep up with school news at a time and place that suits them, Facebook is invaluable, thinks Prof Heppell.
That kind of scenario could alarm some teachers who do not want to blur the boundaries between school and personal life and certainly would not welcome the idea of having their teaching scrutinised on Twitter.
There is also a huge fear among teachers that children are simply far more knowledgeable when it comes to technology.
This might not necessarily be so, thinks Prof Heppell.
"Children today may be able to get around a school' s proxy servers to access the sites they want, but they lack the deeper understanding of how a computer works. They use computers but they can't often control them," he said.
He argues that programming needs to make a return to schools, in the way it did when the user-unfriendly machines of the 1980s forced users to learn some basic programming.
For Chris Baker, an ICT teacher at the John Cabot Academy, a comprehensive school in Bristol, teaching programming is likely to "alienate many of the pupils". For him ICT is all about equipping students with skills that they will use in other lessons.
"We show them show to use Google Docs and then they use them in Spanish lessons, writing in Spanish and collaborating with pupils in Spain who mark their work," he said.
And that is likely to scare the traditionalist teachers even more.