Anonymous urges global protests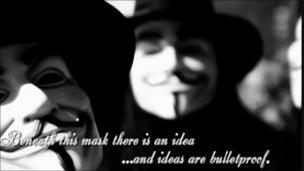 A group of self-styled internet freedom fighters have called for a global day of action in protest at attempts to close down Wikileaks.
Anonymous has gained notoriety in recent months for its cyber-attacks on the websites of companies it deems to be anti-Wikileaks.
These are planned for major cities around the world on 15 January.
"The internet needs champions and we will rise...We are Anonymous and so are you. Stand up and fight. Every city, everywhere," the video message said.
Because of the anonymous and loose-knit nature of the group, details of the actual protests are hard to find but it does mark a change in tactics for the group.
"This is definitely a better tactic than denial-of-service attacks," said Jim Killock, director of the Open Rights Group.
In the denial-of-service attacks carried out in support of Wikileaks, Anonymous members bombarded target websites with huge amounts of data in a bid to knock them offline.
The targets were companies that had cut ties with whistle-blowing website Wikileaks.
Meanwhile a group of European MPs have said that US government snooping on the Twitter accounts of those with links to Wikileaks could break European privacy laws.
"The EU should as a matter of urgency ask the US authorities for clarifications on the subpoenas imposed on Twitter," said Renate Web, a Romanian MEP and member of the Alliance of Liberals and Democrats for Europe (ALDE).
It is expected that the planned Wikileaks demonstrations organised by Anonymous this weekend will be similar to those a few years ago in protest at the Church of Scientology where masked demonstrators gathered outside the organisation's headquarters.
Some experts predict the weekend could also see a renewed escalation in online attacks, possibly against Twitter.
Related Internet Links
The BBC is not responsible for the content of external sites.