'Kinect' for PCs being developed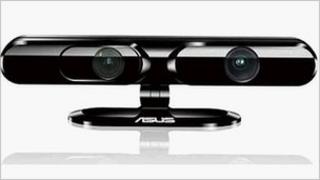 The chips that power the motion-capture system in Microsoft's Kinect are being put in a gadget that works with PCs.
This will mean anyone keen to tap into the sensing abilities of a gadget resembling the Kinect can do so without owning an Xbox 360.
Development versions of the device are being sold by the Israeli company which developed the motion-spotting chips.
It is releasing the code to control the device under an open licence so anyone can use it.
PrimeSense is the creator of the chip that powers the motion-sensing part of Microsoft's Kinect.
Microsoft launched the Kinect for the Xbox 360 in November 2010 and claims to have sold eight million of the devices in the run-up to Christmas.
The device does away with the need for a controller to navigate around the Xbox and to get at content such as movies and to play some games.
Now PrimeSense is selling development versions of what it calls the PrimeSensor - a gadget that resembles the Kinect and has the same infra-red and CMOS cameras on board to do the motion spotting and gesture capture.
Tamir Berliner - one of the founders of PrimeSense - said the company was looking to get the PrimeSensor into the hands of developers so they can bring gestured-based interfaces to many different types of devices.
Open source
He said the company was making the source code for the PrimeSensor available to give developers the freedom to play around with it.
"It will all be open source so you can take it and port it to any device," he said.
Already, he said, some programmers had developed applications and games for the PrimeSensor and uploaded them to its associated app store.
Applications shown off at CES that can be controlled via gesture included some basic games, a picture gallery and a movie library.
"When we founded the company we set out to change the computer gaming industry with movement games but we did not have the Wii to prove us right," he said.
"Now," he said, "we see that computer games are just the start."
The release of the gadget could prove popular with the growing number of people who hacked Microsoft's Kinect to turn it to their own ends.
One of the first licencees has been computer maker Asus which has paired the PrimeSensor with two devices that stream data from a PC to a TV via wireless. This lets owners get at the media on that PC using gestures rather than a mouse.