CES 2011: Windows deal 'milestone' for Arm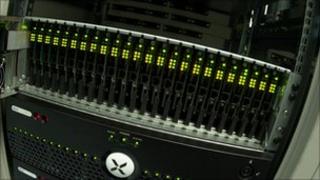 Windows running on chips designed by UK firm Arm marks a "milestone" for the firm says its boss.
Microsoft demonstrated a full version of Windows running on Arm chips at the Consumer Electronics Show in Las Vegas.
Arm boss Warren East said the demonstration grew out of a long-standing relationship between the two firms.
He said it was part of a broader strategy to grow the number of places in which Arm-derived chips are used.
Market maker
News about Microsoft's successful attempt to get a full version of Windows running on Arm chips - which are more usually found powering mobile phones - dominated the opening day of CES.
The demonstration is seen as significant because before until now the full version of Windows has run on processors built around Intel's X86 architecture.
"It was a milestone day for Arm," Warren East, chief executive of the Cambridge-based firm. "It puts Arm in a better position than we were yesterday."
"There's a whole swathe of the market that's been cut off from us and that's been Windows," he said. The opportunity to take some of that market share as tablets, slates and other portable computers become more popular was "very attractive" to Arm, he added.
In the demonstration, Windows was shown running on chips made by Qualcomm, Texas Instruments and Nvidia. Mr East said he expected many of the 220 licensees of its technology to produce gadgets that run Windows.
He would not be drawn on when the first products would appear on shop shelves, but said standard estimates of product development suggest the first are 18 - 24 months away.
Data centres
Mr East said the company's relationship with Microsoft began 15 years ago, when the pair collaborated on early versions of Windows for portable devices. That work has continued into its most current version Windows Phone 7, he said.
Arm also works with Microsoft on a version of its software that runs on embedded devices used in industrial machines.
However, it is likely that the devices likely to emerge from this most recent work will be tablets and slates running Windows 8, which is expected to be able to work with multi-touch screens far better than its predecessor.
Mr East also pointed out that getting a full version of Windows running on Arm expands the places that Microsoft can look to run its software too.
"They are ambitious to put that operating system everywhere," he said. "It works for both of us."
At the moment, said Mr East, Arm chips were found in a range of gadgets that broadly occupied the middle-ground of the computer hardware market.
Arm's strategy, of which the work with Microsoft was a part, is to expand at the top and bottom ends of that hardware spectrum.
For instance, he said, Arm was keen to make servers that can be used in large data centres but use far less power than those based on Intel or AMD chips.
"If you look at the costs of running a data centre," he said, "space is a constraint and getting power in and power out is a costly and difficult problem."
"If you can halve the energy consumption by moving to a low power architecture you can quarter your costs because it costs as much to cool the thing as it does to run the thing," he said.
Arm has been working on designs for server chips for about 18 months, he said, and is now moving from the experimental stage to more serious tests.
At the lower end, said Mr East, Arm is also keen to get its chip designs used to control the motors used in increasing numbers of household goods.
To get the best out of the brushless motors that are becoming common requires a significant amount of processing, he said.
"Most electric motors could be made twice as efficient with intelligent controls," he said. "Some of that you cannot do with eight-bit micro-controllers because they cannot do the sums fast enough."