Thousands of stolen iTunes accounts for sale in China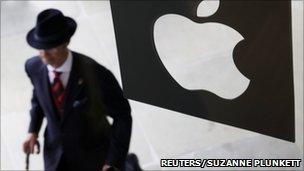 Tens of thousands of fraudulent iTunes accounts are for sale on a major Chinese website, it has been revealed.
About 50,000 accounts linked to stolen credit cards are listed on auction site TaoBao, the country's equivalent of eBay.
Buyers are promised temporary access to unlimited downloads from the service for as little as 1 yuan (10p) a time.
Apple, which recently stepped up iTunes' security after a series of break-ins, declined to comment.
However the company has warned users in recent months to safeguard their personal details.
Listings seen by the BBC tell buyers they can "go after anything they like" including "software, games, movies, music and so on". Several listings tell prospective buyers they can only use the accounts for 12 hours before they are likely to be shut down.
"Of course these accounts are hacked, otherwise how could they be so cheap?" they told the newspaper.
While it is not clear whether the accounts themselves were stolen, or whether they were set up with fraudulently obtained information, it is against the terms and conditions of iTunes to resell user identities.
It is not the first time that users of the service have been targeted by fraudsters. In recent years the iTunes store has become an alluring target for criminals.
Last summer an e-mail scam that targeted iTunes and PayPal left some victims facing credit card bills for thousands of pounds. At the time, Apple increased security checks to safeguard against fraud, and told users to be vigilant for signs of unauthorised activity.
And last month a Wolverhampton man admitted to being involved in a £500,000 fraud that used stolen credit cards to buy songs from the service.
TaoBao said that it was not required to remove the listings because it had not received any direct complaints about the sales.
"We take all reasonable and necessary measures to protect the rights of consumers who use Taobao, of our sellers and of third-parties," the company said in a statement. "Until we receive a valid takedown request, we cannot take action."
The Chinese company is one of the country's biggest internet success stories. It has more than 200 million users and is believed to have sold around 400 billion yuan (£38bn) of goods in the last year alone.
News of the fraudulent sales comes ahead of the launch of Apple's new Mac App Store later today.
The service is an attempt to transfer the success of its iPhone app store to desktop and laptop computers. It requires programs to gain Apple's approval before they can go on sale - despite the fact that Mac users are already freely available to download programs from around the web.