Mobile phone firms get go-ahead for 3G switchover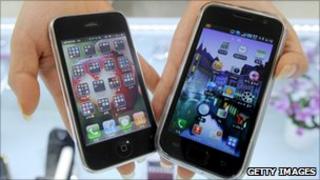 UK regulator Ofcom has given the go-ahead for mobile operators to use their 2G spectrum for 3G mobile broadband.
It says the move will help mobile operators to "increase mobile broadband speeds" as well as offer more mobile broadband coverage in rural areas.
The 2G spectrum is currently used for making phone calls and sending texts.
It could ease some of the pressure on current 3G services, which are feeling the strain from increased use of smart phones and mobile internet.
Ofcom's ruling was welcomed by some - but not all - of the UK mobile phone operators.
The decision would benefit consumers, said Guy Lawrence, chief executive of Vodafone UK, by enabling it to deliver "faster and better mobile broadband with wider rural coverage".
But Kevin Russell, chief executive of Three UK said the decision would give "unfair competitive advantage" to the operators that hold 2G licences.
Those firms could previously only use a limited amount of the available airwaves to deliver 3G services, which include watching net video on handsets.
Three does not currently hold any 2G licences, having only entered the UK market when 3G licences were auctioned off in 2000 - an auction that netted the government more than £20bn.
The remainder of the operators' spectrum was licensed in the 1990s with a condition that it could only be used for 2G services.
The UK was required to free-up its 2G spectrum for 3G use after the introduction of European legislation.
It will mean that Vodafone and 02 will be able to convert their chunks of the 900MHz spectrum, whilst T-Mobile and Orange will be able to switch over their 1800MHz spectrum.
The decision to allow the switchover had taken so long, despite demand for 3G services, because Ofcom had had to work through "competition issues", a spokesperson said.
The decision comes ahead of the Digital Dividend auction, which will see the government sell off swathes of the 2.6GHz and 800Mhz frequencies for next-generation mobile services, which will offer speeds faster than today's 3G networks.
Ofcom plans to auction the airwaves before 2012.
Three UK's Mr Russell called on Ofcom to ensure the 2012 auction would create a market where all operators could compete on a level playing field.
"Competition in the market is also vital to the delivery of the government's universal broadband and digital inclusion targets, because it drives the delivery of new and better services and promotes value," he said.