BT Content Connect service faces 'two-tier net' claims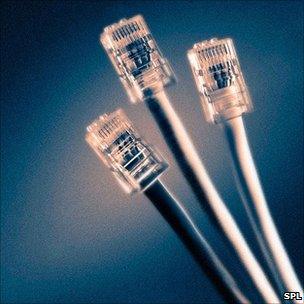 BT has introduced a controversial service that some say could allow broadband providers to create a "two-tier internet".
Content Connect, as it is known, allows Internet Service Providers (ISPs) that use BT's network to charge content firms for high-speed delivery of video.
It could spell the end of so-called "net neutrality", where all traffic on the net is treated equally.
Critics say it will also reduce competition for consumers.
"This is a sea change in the way that content is delivered by ISPs," Jim Killock of the net freedom campaign organisation, the Open Rights Group, told BBC News.
"It is essentially them saying: 'Rather than delivering whatever content is on the internet as best we can, here are our services that we will deliver through our own network.'"
He said the result could be a "fundamental shift" from consumers choosing what video and gaming services they buy on the internet to "buying services from the internet to bundled services from ISPs".
"This would reduce competition and take investment away from internet companies - that would be bad for everyone."
In addition, net neutrality advocates says that allowing large content providers, such as YouTube, to pay for premium delivery could put smaller companies at a competitive disadvantage, reinforcing the gap.
But a spokesperson for BT denied that the offering would create a "two-tier internet".
"BT supports the concept of net neutrality, but believes that service providers should also be free to strike commercial deals, should content owners want a higher quality or assured service delivery."
It said that its new service would speed up download speeds across its network - even for those not buying into Content Connect - by easing congestion.
Network neutrality is one of the founding principles of the internet and is meant to ensure that all ISPs treat all web traffic equally - serving merely as a conduit for whatever data is passing from content providers to end users.
But debates have been raging around the world as the explosive growth in internet traffic - and particularly video - has put a strain on the existing infrastructure.
In the US, regulators recently voted in favour of rules that are designed to uphold the principles of network neutrality.
The EU has openly backed network neutrality, but has introduced regulation that allows network providers to manage traffic on their networks, provided what they are doing is transparent.
The UK regulator Ofcom is expected to clarify its stance later this year.
In the meantime, the UK government has already said that it backs a two-speed internet.
Culture minister Ed Vaizey said in November that ISPs had to be free to experiment with new charges to help pay for the expansion in internet services and infrastructure.
"This could include the evolution of a two-sided market, where consumers and content providers could choose to pay for differing levels of quality of service," he said.
The new offering from BT seems to be the first major step in that direction.
The service, offered by BT's wholesale division, is based on a new content distribution network built by BT that stores video content closer to the user, reducing congestion on the network and speeding up load times.
BT retail - a separate division of BT - will begin to use the service to deliver BBC iPlayer content on its BT Vision TV service within the next few months.
"It will cache iPlayer content closer to customers on the network, allowing for the content to be delivered to customers in a more efficient and cost-effective way, as well as improving the overall viewing experience," a BT spokesperson told BBC News.
"The Content Connect service will also be available to all UK ISPs within the same timescales."
The spokesperson said that BT would not throttle or discriminate against other video services on the network, but did not rule out that ISPs using the network could do so.
"The treatment of content on the network - such as prioritisation of content or bandwidth throttling - is strictly within the domain of the ISP and not the wholesale provider."
Related Internet Links
The BBC is not responsible for the content of external sites.