Apple removes iPhone Wikileaks app from iTunes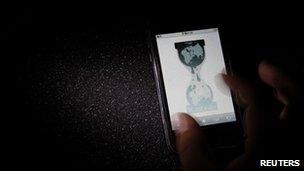 Apple has confirmed that it removed a Wikileaks iPhone app from its iTunes store.
Wikileaks App was an unofficial, paid-for download that gave people access to the free Wikileaks Twitter feed and documents held on its website.
It was removed three days after it was launched on 17 December.
Apple said that the app, which had more than 4,000 downloads before its was pulled, "violated" developer guidelines.
"Apps must comply will all local laws and may not put an individual or targeted group in harms way," said a spokesperson for the firm.
The app's Russian developer, Igor Barinov, said that Apple had told him it specifically violated two of its guidelines.
The first on personal attacks states: "Any app that is defamatory, offensive, mean-spirited, or likely to place the targeted individual or group in harm's way will be rejected."
The second says "apps must comply with all legal requirements in any location where they are made available to users".
"[Apple] said there is no way back for this application," Mr Barinov told BBC News.
The removal comes at a time when a series of firms - including Amazon, Visa, Mastercard and PayPal - have removed services - including web hosting and processing of donations - to Wikileaks.
These have prompted a series of attacks on the firms' websites and services by a group of activists, who call themselves Anonymous.
Mr Barinov said he created the app to support Wikileaks because he was interested in "information about UFOs" that may be contained in documents leaked to the organisation.
Wikileaks apps are still available for other phones, such as those running Google Android.
All of the material offered by the Wikileaks iPhone app can be accessed for free via the phone's browser and other non-Wikileaks apps.