Call to fix web's 'inaccessible' sites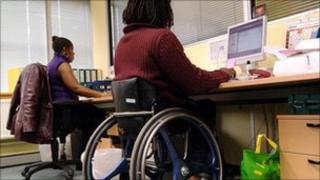 A campaign has launched aimed at improving the online experience for people with disabilities.
A new site called Fix the Web allows disabled and older people to report problems they find when surfing.
There are an estimated six million disabled and older users in the UK but many sites continue to cause problems for them.
The new scheme, launched by charity Citizens Online, will see volunteers report complaints back to site owners.
Fix the Web has set itself the ambitious target of getting 10,000 volunteers dealing with 250,000 websites within two years.
Common issues that arise when disabled users surf the web include:
sites which are incompatible with screen readers
text that is difficult to read
websites that prohibit access for non-mouse users
over-fussy and distracting layouts.
As well as reporting faults via the website, volunteers will also be able to e-mail or tweet their issues.
No 'name and shame'
Dr Gail Bradbrook of Citizens Online called for a "committed group of tech volunteers" to take charge of the problem.
"I believe many techies would be horrified to think that the web they love so much is excluding people. I firmly believe that this isn't a problem disabled people should have to deal with on their own," she said.
"We expect to see ramps, extra wide doorways and adapted toilet facilities, but what about the equivalent online?
"Do we consider that websites might need their own virtual ramps?" she added.
But Dr Bradbrook was keen to stress that the exercise would not be a "name and shame" campaign but that volunteers would work alongside website owners.
According to the World Wide Web Consortium, only 19% of websites meet the minimum standard for web access.
In 2008 it drew up a set of guidelines to improve web accessibility.
Fix the Web is one of the initiatives drawn up by the e-Accessibility Forum, which was created in October by Communications Minister Ed Vaizey. It is funded by the Nominet Trust.
Mr Vaizey has pledged a "step-change" in e-accessibility by 2012.