Call of Duty: Black Ops racks up sales record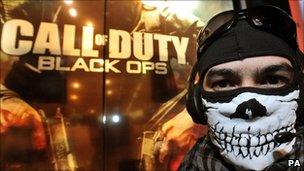 Call of Duty: Black Ops generated more than $360m (£223m) on the first day it was on sale, publisher Activision says.
In the UK, first day sales of £58m made it the all-formats record holder, says research firm Gfk/Chart-Track.
In the US and UK the game is thought to have sold more than 5.6 million copies, of which 1.4 million were bought by British gamers.
The previous record holder for first day sales was the Black Ops predecessor Call of Duty: Modern Warfare 2.
Independent figures for US sales are not yet available but UK figures suggest Black Ops smashed the sales record set by its forerunner.
Call of Duty: Modern Warfare 2 sold 1.23 million units in the UK on its first day in November 2009, says Gfk, but Black Ops racked up 14% more. Revenues generated by sales of Black Ops were 22% higher.
Publisher Activision said it expected Black Ops to beat the $550m (£340m) in revenue generated by Modern Warfare 2 in its first five days on sale.
The majority of sales were for the Xbox 360 version of the game, figures showed.
On the first day of release Josh Olin, community manager for Black Ops' creator Treyarch, said more than one million people were online playing the Xbox version at the same time.
Related Internet Links
The BBC is not responsible for the content of external sites.