Ask retreats from web search market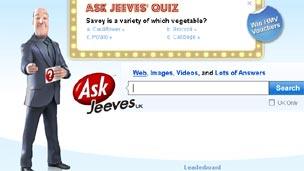 Ask.com is abandoning its search technology to concentrate on answering questions using third-party engines.
Experts see the decision as an acknowledgement that the company cannot compete with market leader Google.
It will mean the closure of engineering offices and the loss of jobs in the US and China.
Ask has been through a series of rebrandings in recent years, dropping its "Jeeves" character only to reinstate it later in the UK.
Despite its efforts, Ask.com commands just 3.7% of the search market in the US - a low market share that has led it to reassess its future.
"Why make the huge capital investment required to support algorithmic web search development when independent web search is not required by our strategy?" the firm said in a statement.
"This doesn't mean however that we have given up on web search. On the contrary, web search was and will continue to be a crucial ingredient to our Q&A offering, but will be provided via third party feeds."
Mike Davis, a senior analyst at research firm Ovum, said it was a sensible move.
"Ask started off as a query engine and then moved into web search but it was always pushing against the big boys," he said.
"Others don't stand a chance unless they can come up with something completely different so it makes sense for Ask to concentrate on what it is good at - which is answering questions," he said.
Ask has not said who will power its search but Mr Davis thinks it could be Google's biggest rival.
"Microsoft is making some very good deals at the moment, licensing Bing to other people. It has invested a fortune in search and wants to start knocking at Google's 65% market share," he said.
Currently Bing commands around 11% of the search market.
Related Internet Links
The BBC is not responsible for the content of external sites.