Net providers get Digital Economy Act judicial review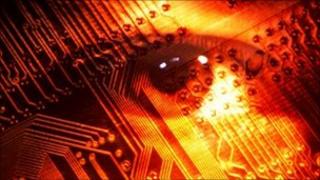 TalkTalk and BT have been granted judicial review of the Digital Economy Act by the High Court.
A judge will now scrutinise whether the act is legal and justifiable, and could make wide-ranging recommendations.
BT and TalkTalk argued that the legislation had been "rushed through parliament" before the election.
Internet service providers (ISPs) are unhappy with the part of the act that requires them to take action against suspected illegal file-sharers.
Depending on the judge's ruling, the government may be forced to change or even scrap the legislation.
More debate
Andrew Heaney, director of strategy and regulation at TalkTalk said he was "very pleased" that the High Court had recognised the concerns of ISPs.
"The act was rushed through parliament in the 'wash-up' with only 6% of MPs attending the brief debate and has very serious flaws," he said.
During the parliamentary debate about the Digital Economy bill, held in the final days before the parliament was dissolved before May's general election, some MPs complained that it needed more debate because of its complex nature.
"The provisions to try and reduce illegal file-sharing are unfair, won't work and will potentially result in millions of innocent customers who have broken no law suffering and having their privacy invaded," said Mr Heaney.
He called on the government to put the legislation "on hold" pending the enquiry.
A judge will conduct a full review in February, considering whether the parts of the act that deal with illegal file-sharing are in breach of the e-commerce directive, which rules that ISPs cannot be held liable for traffic on their networks.
The act will also be measured against EU privacy and technical standards legislation.
One of the most controversial elements of the law relates to tougher penalties for people who download music, films and other content without paying.
ISPs will be required to send letters to people identified as net pirates, with persistent offenders being added to a blacklist.
Misconceived
The BPI, which represents record labels, has been campaigning for action to tackle online copyright infringement.
"It's disappointing that a couple of ISPs are trying to frustrate this and resist any action being taken to reduce illegal file-sharing on their networks," said a BPI spokesman.
"We continue to believe that their case is misconceived and will fail. The act remains in full force and we will continue to work with government, Ofcom and other stakeholders to implement it," he added.
Ofcom has been working on a final code of practice for how the process of monitoring file-sharing will work in the UK.
It has the power to slow down the net connections of persistent pirates or even cut them off completely, although such measures would not come into force until at least 2012.
A caveat added at the last minute stipulated that new legislation and several rounds of consultation would be required before such a course of action was taken.
A spokeswoman for the regulator said it was "business as usual" as far as the code of practice was concerned.
The regulator is expected to publish its final code later this week.
Last month the High Court in Ireland ruled that laws cutting off internet users who have illegally downloaded content cannot be enforced in the country.