Google helps Dead Sea Scrolls enter internet age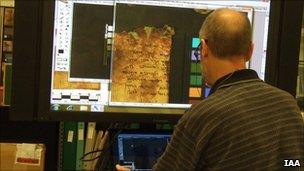 Sixty years after a shepherd happened upon the Dead Sea Scrolls, a plan aims to bring them into the internet age.
Researchers at the Israel Antiquities Authority (IAA), aided by scientists at Google, plan to image the 2,000-year old documents and publish them online.
The collection of biblical texts are made up of 30,000 fragments which together comprise 900 manuscripts.
The high-resolution images will be made available for free in original form and with translations.
"This project will enrich and preserve an important and meaningful part of world heritage by making it accessible to all on the internet," said professor Yossi Matias, of Google-Israel.
"We shall continue with this historical effort to make all existing knowledge in archives and storages available to all."
The scrolls, which include texts form the Hebrew Bible, are currently housed at the Israel Museum in Jerusalem.
Only a small portion of the larger fragments are ever displayed to minimise damage.
When not on show, they are kept in a dark, climate-controlled storeroom.
The new project will digitally image every Scroll fragment in various wavelengths. It is hoped that infra-red images may expose letters currently invisible to the naked eye
The images will then be uploaded to a searchable online database, allowing scholars around the world to pore over their details.
"We are establishing a milestone connection between progress and the past to preserve this unique heritage for future generations," said Shuka Dorfman, the current head of the IAA.
"The public with a click of the mouse will be able to freely access history in its fullest glamour."
The scrolls were discovered by a Bedouin shepherd in the Qumran caves above the Dead Sea in the mid-1940s.
They have been described as "one of the most important archaeological finds of the 20th Century".
Jordanian and Palestinians officials have complained about what they see as the theft of their artefacts by Israel. They say Israel seized the ancient texts during the 1967 Six-Day War, a claim which Israel denies.
The parchment and papyrus scrolls contain Hebrew, Greek and Aramaic writing, and include several of the earliest-known texts from the Bible, including the oldest surviving copy of the Ten Commandments.
The first images will go online in the coming months.
Related Internet Links
The BBC is not responsible for the content of external sites.