BT required to open fibre network by Ofcom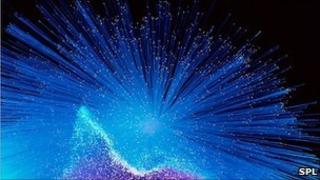 Ofcom has required BT to allow competitors control of its fibre cables in a move designed to promote the take-up of superfast broadband services.
The regulator has also told BT that it must give rival ISPs access to its underground ducts and telegraph poles to build their own fibre networks.
BT, the UK's largest ISP, will be able to set its own prices for access.
The regulator said its decision would support the government's ambitions to roll out superfast broadband.
But it warned that there was still "a long way to go to deliver the networks of the future that the UK needs".
The government wants all homes to have access to basic 2Mbps broadband by 2015.
However, this target - originally planned for 2012 - means it will fall foul of the European Union.
The EU wants member states to provide citizens with a minimum of 30Mbps broadband by 2020 and basic broadband connections by 2013.
'Room to improve'
Ofcom's decision follows a consultation which began in March this year.
It said that the new measures recognised the fact that "different areas require different solutions".
"In areas where BT invests in fibre, the remedies will enable other providers to offer competing services, based on BT's facilities," it said.
"Elsewhere, access to BT's ducts and poles should encourage investment by other providers, enabling the provision of superfast services and increasing competition."
TalkTalk, the second-largest provider of internet access in the UK, will be one of the first ISPs to start selling superfast broadband by relying on BT's line.
It welcomed the regulations but said that it thought there was "room to improve" the deal further.
Ofcom hopes that others, such as Sky, will now follow.
Andrew Ferguson, editor of broadband news site ThinkBroadband, said the framework should increase the amount of fibre in the UK, and particularly in rural areas.
"Access to BT ducts makes it a lot easier and a lot cheaper and faster to rollout fibre," he told BBC News.
"Access to poles has a good chance of providing extra infrastructure in the last third of country where no one has said they will specifically [roll out services]."
BT has committed £2.5bn to next-generation broadband, which aims to reach 17m homes by 2015. Around 4m homes will be connected by the end of the year.
Last week, the firm announced that it would roll out fibre to up to 90% of homes in Cornwall and the Isles of Scilly, in the biggest rural fibre optic roll-out in the UK to date.
The project, due for completion in 2014, was part funded by the European Union.
The firm said that it was "pleased" with Ofcom's "regulatory clarity and certainty".