Google Street View hits Antarctic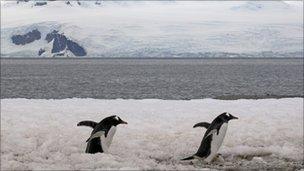 Privacy concerns for Google's Street View may now extend to penguins, following the service's extension to a seventh continent - Antarctica.
The Antarctica imagery is so far limited, showing panoramas of the coast and penguins of Half Moon Island.
Google says its service now covers 25 nations on all the world's continents.
Street View has expanded massively since its launch in 2007 but has encountered a number of protests over its data collection.
Brian McClendon, vice-president of Engineering, Google Earth and Maps, announced the extension to Antarctica - and also to Brazil and Ireland - on Google Blog.
Google Street View's images are normally taken from a fleet of adapted cars but the Antarctica shots are a combination of Google and user photographs.
"The blue dots you see throughout the continent when dragging the pegman are user-contributed photos," Mr McClendon said.
He added: "We often consider Street View to be the last zoom layer on the map. And a way to show you what a place looks like as if you were there in person, whether you're checking out a coffee shop across town or planning a vacation across the globe.
"You can now see images from around the world spanning from the beaches of Brazil, to the moors of Ireland, to the icy terrain in Antarctica."
Google Street View was launched in May 2007, covering San Francisco, Las Vegas, Denver, New York and Miami, allowing users to navigate virtual streets from photographs gathered from directional cameras on special vehicles.
The service has been hugely successful but has brought problems of privacy in some countries.
In May, Google admitted that for the past three years it had wrongly collected information people had sent over unencrypted wi-fi networks.
The issue came to light after German authorities asked to audit the data the company's Street View cars gathered. It emerged the wi-fi data collection had occurred in more than 30 countries.
Investigations are ongoing in France, Germany and Australia, while in Spain, the firm has been summoned to appear before a judge on 4 October.
This month, the office for personal data protection in the Czech Republic refused to grant Google a licence to collect fresh data in the country.
Related Internet Links
The BBC is not responsible for the content of external sites.