US 'open internet' bill shot down
By Maggie Shiels
Technology reporter, BBC News, Silicon Valley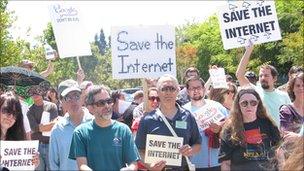 Partisan politics is being blamed for killing off US legislation to protect the "net neutrality" that sees all web traffic treated equally.
Democrat Henry Waxman said he failed to garner the necessary Republican support for his net neutrality bill.
The bill aimed to stop ISPs from acting as online gatekeepers controlling the content flowing through their pipes.
"This development is a loss for consumers and a gain only for the extremes," said Mr Waxman.
"The bottom line is we must protect the open internet. If Congress can't act, the FCC (Federal Communications Commission) must."
Mr Waxman's approach was seen as an interim measure to protect net neutrality while Congress considers a permanent solution.
The chairman had reached agreements with a number of parties who have been split on the issue, including consumer and open internet groups as well as phone, cable and technology companies.
"The legislative initiative was predicated on going forward only if we had full bipartisan support in our committee," said Mr Waxman.
"With great regret, I must report that ranking member (Joe) Barton has informed me that support for this legislation will not be forthcoming at this time."
Commentators have said that mid-term elections and a rise in support for the right-wing Tea Party has left Republicans reluctant to support a bill that might be seen as regulating the internet.
"I have consulted with Republican leadership and members of the Energy and Commerce Committee, and there is a widespread view that there is not sufficient time to ensure that Chairman Waxman's proposal will keep the Internet open without chilling innovation and job creation," Mr Barton said in a statement.
"If the majority wants to work on a solution to continue a free and open internet, let's consider the issue deliberately, rather than punting with a halfway measure two days before the end of Congress. "
Net neutrality was President Obama's top campaign pledge to the technology industry.
It is also at the heart of the government's broadband efforts to provide every American with high-speed internet access by 2020.
Parts of the plan have been in limbo following a court ruling that said the FCC did not have the power to sanction ISP Comcast for throttling some internet traffic.
As a result, the FCC said it would change the criteria under which broadband is policed.
At the moment it is lightly regulated but plans to alter the status would give the commission power to rule over rates and network management.
To avoid lawsuits, the FCC said it would adopt a third way that would set aside such stringent powers.
Closed door talks brokered by the FCC with telecom companies and internet service providers failed to reach agreement on the matter.
Soon after, search giant Google and telecom titan Verizon launched their plan for the future that includes treating fixed line services differently from wireless services.
Critics denounced the plan as a recipe for creating a "two-tier internet".
Mr Waxman's bill was seen as a viable compromise.
"Mr Waxman's bill would have created an important safety net to prevent the broadband internet access landscape from being Balkanised by anticompetitive paywalls and discriminatory technology barriers that block or degrade communications," said Dr Mark Cooper of the Consumer Federation of America.
Net neutrality supporters said the clock is ticking for the FCC.
"Consumers are currently unprotected, and it would be irresponsible for the FCC to fail to act," said Joel Kelsey, political adviser to public advocacy group Free Press.
Weighing in on the debate is internet mogul Barry Diller who said the greatest threat to internet freedom is the lack of a net neutrality law.
Speaking at TechCrunch Disrupt, a technology conference in San Francisco, Mr Diller urged attendees to stand up and be counted in the debate.
"Net neutrality is on the side of the angels. All of you have to get out there and start arguing for this strongly.
"We have a Republican opposition to this that says 'don't make any rules for anything because you will inhibit investment', which is absurd. We don't have enough energy from people like you," said Mr Diller, chief executive officer of internet content provider InterActive Corp.
He also said that unless net neutrality is enshrined in law, the US will lose its standing as a technology powerhouse.
"We are a leader in the world with technology. It is almost all our inventions that have spurred all development in the world.
"We have got to get broadband more developed, the infrastructure and got to get past this net neutrality," he added.
Related Internet Links
The BBC is not responsible for the content of external sites.