Sir Paul McCartney in HP cloud digitise deal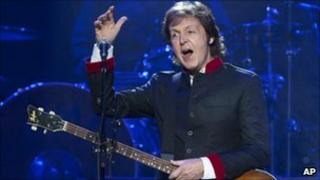 Music legend Sir Paul McCartney has teamed up with a technology giant to digitise his entire library.
The project with Hewlett Packard includes music, artwork, photographs, paintings and videos collected over several decades in the business.
It will span Sir Paul's career from the Beatles to Wings to his solo years.
"I've always been interested in creative ideas and new ways of reaching people, so this is really exciting for me," said Sir Paul.
"I hope it will allow people who might be interested to access parts of our archives they might otherwise not be able to."
The work will be stored in a private "cloud" created by HP and controlled by Sir Paul and his company.
Cloud computing is the term given to the shift of computing power, storage and usage from the physical machine on people's desks in homes and offices to the web.
This is the first time HP has worked with an artist in this way.
"We typically tend to work with enterprise groups and government as opposed to individual artists to deliver cloud capabilities," Lynn Anderson, vice president of HP's influencer marketing group told BBC News.
"It is a sign of the times and Sir Paul is a perfect example of how cloud, social media and mobile computing can come together to deliver a unique fan experience.
"It allows Sir Paul to build a more personal connection between himself and his fan base without any intermediaries getting in the way and is an example of him setting a brand new trend in the music industry."
The technology blogosphere has reacted to the deal with some amusement.
"It's one thing when every technology executive on the planet is yapping about cloud computing, private clouds and everything in between," said Larry Dignan of ZDnet.com.
"It's quite another when Sir Paul McCartney is talking Band on the Run and private clouds. I'm not sure how many cloud deals McCartney will win for HP, but he's certainly one of the more notable reference customers."