US schools may get unused fibre links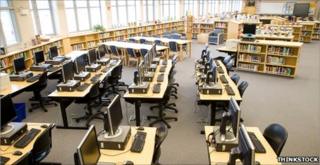 US schools and libraries may be able to tap into unused fibre networks in a bid to boost connection speeds.
On Thursday the US' Federal Communications Commission (FCC) will vote on a proposal outlining the plan.
FCC chairman Julius Genachowski told BBC News that high-speed web access for schools was vital "in order to participate in a 21st Century economy".
His remarks came at a conference looking at the role of technology in learning hosted by Common Sense Media.
The non-profit advocacy group's founder Jim Steyer argued for digital literacy as the next social movement, warning that the US' education system was in crisis.
"We are falling behind and it's obvious in a global economy that other countries are doing a better job than we are," Mr Steyer said.
"I worry about the future when we hear that Singapore is ahead of the US in math and science and that 50% of the kids no longer have the educational opportunities like properly wired classrooms, the right kinds of software or textbook opportunities they should have.
"We have ignored these issues over the last decade at our own national peril," Mr Steyer told BBC News.
The back-to-school forum highlighted three main goals to help move the country towards a digital future that puts the US back on the map:
ensuring every child is digitally literate by 8th grade, around 14 years old
educating parents about technology and its value
making every classroom a 21st-Century classroom
'American dream'
The plea did not fall on deaf ears.
The FCC's Mr Genachowski announced a plan as part of the E-Rate programme to keep students connected to the internet both inside and outside the classroom.
The father of three told the audience of teachers, industry leaders and government officials "when our schools win, our country wins".
"Education is at the core of the American dream and central to a thriving economy. Digital literacy is vital," said Mr Genachowski.
To date, the E-Rate fund has doled out more than $22bn (£16bn) since it was launched in 1998 helping to bring internet connections to classrooms in the US, but most of those connections have been slow and expensive.
Mr Genachowski hopes Thursday's vote will change that.
"There is no doubt in my mind that kids need to be digitally literate in order to participate in a 21st Century economy and a 21st century democracy - so we have to take seriously the challenge of getting high-speed broadband access to every school in the United States," he told the BBC.
"There is a global competition out there for infrastructure and innovation and if the United States doesn't take this seriously we will fall behind. We have to tackle this with a sense of urgency," he added.
That was a view backed by Karen Cator, the director of education technology at the US Department of Education.
"Broadband everywhere for all student education is a matter of civil rights and economic development," she said.
'Entreprenurial opportunity'
During the forum, Common Sense Media urged the technology industry to play its part in moving the system towards digital schools.
It was no coincidence that the event was staged at the Computer History Museum celebrating the technological revolution and just a matter of miles from the headquarters of Google, Apple, HP, Facebook and Yahoo.
"We need to throw down the gauntlet to the tech industry because many of them are parents and while they care deeply about education, the record reflects that they haven't done much about it," said Common Sense Media's Mr Steyer.
"Frankly I think they have looked at it as a secondary market. They realised there is a better profit to be made on the consumer side of their business.
"They just haven't seen the business imperative yet but if they don't act with some urgency, they are not going to have the employee base they will need in 10-20 years."
Mandeep Dhillon is the chief executive officer of Togetherville, an online community aimed at kids under 10. He said catering to the young school age market can present challenges for a lot of companies.
"The speed of technology has been so rapid and markets tend to focus on the places where they have the greatest economic impact and kids don't have tremendous economic impact.
"The money part of it is definitely part of the challenge. It's hard. It is very difficult to deal with kids - five, seven, nine years olds are very, very different types of people.
"So one product that fits in that space is not something that large corporations are focused on. I think there is a huge entrepreneurial opportunity to fill in that gap."