Facebook Places location-aware service launches in UK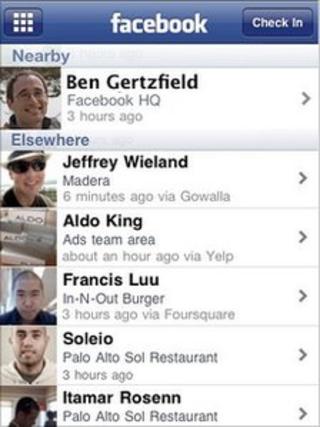 Facebook has launched its location-based Places service in the UK.
It allows people to "check in" wherever they are and see who among their friends and other Facebook users is - or has been - at the same location.
The service also lists nearby businesses and attractions, and Facebook will target the locations it lists to each Places user.
It has numerous privacy controls in place to control the amount of location information that is shared.
Places is available in the US and now the UK for the iPhone and select other smartphones through Facebook's mobile site, with other countries to come.
Michael Sharon, product manager for Places, said that the firm was working on developing the application for Blackberry and devices running the Android operating system.
He added that the firm has made Places' API - the software that allows other programs to interface with it - available, so that Places will be able to integrate with existing location-aware services such as Foursquare.
"We started seeing that in status updates people were saying things like 'going to the gym' or 'hanging out with Joe and Sue'," Mr Sharon said at the UK launch.
"We realised that this is something that people do every single day, telling their friends where they are.
"The natural thing is to build a product that takes advantage of this and makes it easier, more convenient and more social for them to do what they're already doing."
The service allows people to access "Place pages" wherever they are, indicating local points of interest and listing people who are "Here Now" and friends who have visited the place.
Users can then "check in" to the location, making themselves visible to their friends, to everyone on Facebook, or to no-one at all.
The location information can then appear on a user's wall and newsfeed; however, the default setting is that only Facebook friends can see the check-in.
Mr Sharon stressed that there were also a number of security features in place for minors; for example, only a minor user's friends will be able to see check-ins.
Josh Feldberg, a digital consultant attending the UK launch, told BBC News that the sheer size of Facebook's user base would make it more successful than other location-aware services such as Gowalla and Foursquare.
"It makes my location check-ins more useful; Foursquare's a bit of fun but only a couple of times has it led to actual offline meetups; with Facebook, the people on there are more my close friends and family."
Advertisements will not be linked to Place pages, but rather targeted at specific users; Mr Feldberg said the location-aware service could offer new types of content.
"It could help with their advertising revenue but their ads are already quite targeted; from a marketing point of view for businesses it offers interesting opportunities. You could do reward schemes for people who check in at a certain business, for example."
Rik Ferguson of security firm Trend Micro, trialled the service as it was launched on Friday. He raised a number of concerns about the functionality that allows users to check in their friends at a given location.
"One of the major issues is the way that Facebook have implemented his functionality," Mr Ferguson told BBC News.
"By default, users are opted in to the ability to be tagged by their friends, they are opted in to allowing their friends' Facebook apps to access their location information, and they are opted in to allowing 'non-friends' checked-in to the same place to see their whereabouts.
"This is all backwards - this should be deployed on a purely opt-in basis and no information about my whereabouts should be posted without my explicit consent, every single time a post is made."