Craigslist ends US adult services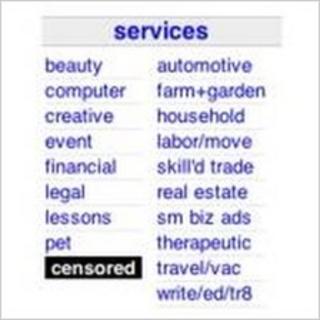 Online marketplace Craigslist has said it has no plans to resume its controversial "adult services" listing in the US.
Critics say the firm was a "virtual tool for pimps and prostitutes".
A Craigslist official told the US House Judiciary Committee that it had been "virtually alone" in trying to combat trafficking and exploitation.
However, the company will continue to host adult services listings on international editions.
Last year the San Francisco based company removed its "erotic services" section and replaced it with a fee-based "adult" category in response to pressure from 40 state attorneys general.
For many this did not go far enough, with state attorneys and anti-child trafficking groups calling for the section to be taken down.
In early September, Craigslist closed its "adult" category.
William Clinton Powell, director of law enforcement relations for Craigslist, told the Committee that his firm had been aggressive in working to stop child exploitation and that people seeking to advertise adult or sexual services will simply move to another web site.
"Craigslist has been virtually alone among the many advertising venues carrying adult ads in vigorously combating exploitation and trafficking," he said
Congressman Chris Smith, a Republican from New Jersey's 4th district, agreed that "the internet has opened a whole new front in the war on trafficking, allowing demand to run free without practical obstacles".
Murder charge
Craigslist's announcement comes as US prosecutors formally dropped charges against a man accused of killing a masseuse he met through the classified website.
Philip Markoff, a former student at Boston University, committed suicide in his cell last month.
He was accused of killing 25-year-old Julissa Brisman and attempting to rob two other women.
Prosecutors in Boston said they were withdrawing the charges against Markoff because of his death.