Ofcom looks to simplify broadband switching policies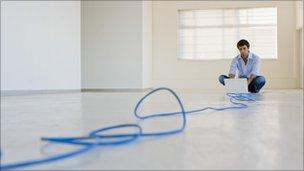 Telecommunications watchdog Ofcom has found that nearly half of consumers think that changing their broadband or landline provider is "too much hassle".
Ofcom is now suggesting a system in which a new provider "takes the lead" in performing the switch.
However, Ofcom notes it must protect consumers from the growing practice of "slamming" in which the switch occurs without the consumer's consent.
Ofcom is engaged in a consultation on the issue and welcomes public comment.
"There are a lot of different switching processes in the communications market, some the industry came up with, some the previous regulators sorted out - so it's not surprising that people don't find it easy to switch," an Ofcom spokesperson told BBC News.
However, Ofcom is aware that an effort to make switching easier opens concerns of switching without a consumer's informed consent.
"There needs to be some level of consumer protection in there, but the process needs to be simple enough for people to take advantage of competition, better services and cheaper prices," the spokesperson explained.
The effort will be complicated by the fact that in 50% of cases, telecoms services are part of "bundles" including mobile, landline, television and/or broadband.
Sebastien Lahtinen of broadband information site ThinkBroadband says the proposal is not without its potential pitfalls, one of which could be a rise in high-pressure sales tactics from providers.
"We welcome the review by Ofcom of the switching process as it is clearly causing frustration for consumers," he told BBC News.
"However, any improvements on the current systems should ensure that the consumer is able to make an informed decision about switching.
"What we need is a system similar to that used by banks which permits the transfer of direct debits and standing orders from one bank to another. A similar process for communications services could include details of any services within the bundle, including those which cannot be transferred, and consumers could then make a decision on how to proceed."
Related Internet Links
The BBC is not responsible for the content of external sites.