Intel to launch chipsets with built-in graphics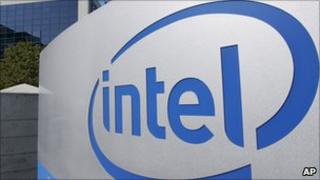 Intel is aiming for a larger slice of the hardware market with a new chip with built-in graphics.
The move will ratchet up its rivalry with chip manufacturer AMD.
Intel will unveil its new chipset, codenamed Sandy Bridge, at its Developer Forum conference in San Francisco next week.
Intel's new chips would result in improved visuals and remove the need for a separate graphics chip in computers.
A spokesperson for Intel told BBC news its new chips were an important step for the company.
"[It is important] in the context of the continuing move to mobility as it allows for tighter integration between the CPU and graphics components, delivering better performance and power management," the company said.
Although Intel currently sell single units that can cope with both graphics and processing, the sets comprise two separate chips: a central processing unit (CPU) and the graphic processing unit (GPU).
Power vs battery life
Rival firm AMD is working on its own Zacate accelerated processor unit: a single chip with combined GPU and CPU.
While power usage is not a major issue for desktop PCs, the problem becomes more significant for laptops and is a key issue for smartphones, where any extra power demand will shorten battery life.
Intel attempted to expand into the mobile computing market in 2008 when it launched its Atom chips. Although far smaller than Intel's usual chipsets, they still comprised a separate GPU and CPU and are still too large and power hungry to be acceptable to the smartphone market.
Smartphone chip battle heats up
An improved version of that chip set, code named Moorestown, was announced in May this year.
"This is all part of Intel's desperate charge to get the size and power usage of their chips down," Alex Watson, editor of Custom PC magazine, told BBC News.
Industry analysts expect that smartphones will outsell PCs within in the next 12 months, as the popularity of smartphones continues to soar while the PC market is saturated.
As such, this is a market that chip manufactures are keen to expand into.
"The vast majority of smartphones use ARM chips, a UK-based company spun out of Acorn Computers: the people who used to make the BBC Micro," said Mr Watson.
"They only design, rather than make the chips and then license them out. For example, the Apple A4 chip used in its iPad and iPhone 4 is ARM's design.
"ARM are probably one of the least known and most profitable companies in the IT sector," he added.
ARM is not resting on its laurels. The firm has just launched a new chip called the Cortex-A15 MPCore.
This new chip will run with a clock speed of 2.5 GHz, which could result in far faster processing speeds, with a minimal impact on power usage.
Were Apple to use the new chips in its iPads and iPhones, these devices could be up five times faster. Some analysts say ARM's new chip is "as significant to the smartphone market as the [Intel] Pentium was to the desktop market".
"The pressure is really on Intel, because they are wedded to the technology that made them rich for the past 30 years," said Mr Watson.
"They are determined to catch up using their existing technology, rather than starting again, but they are very short of time.
"There are almost a million smartphones being sold every day and Intel are not in a single one. If the firm is to remain viable, it needs a slice of that market."
Because of an editing error, an earlier version of this article suggested that the Moorestown chip would be launched at next week's Intel Developer Forum, alongside the Sandy Bridge chip. We are happy to confirm that this is not the case.