Google to pay $8.5m to settle Buzz lawsuit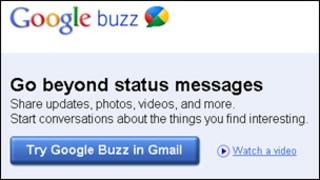 Google has proposed paying $8.5m (£5.5m) to settle a lawsuit brought over its Buzz social network.
Launched in February, Buzz enrolled all Gmail users into a social network based around their contacts.
The service was criticised because users initially had relatively little control over who could see their network of contacts.
Several Gmail users took Google to court over Buzz saying the network violated personal privacy.
The lump sum is at the centre of Google's proposed settlement of the legal case, of which 30% will be used to pay legal fees, the seven Gmail users who brought the case will get $2,500 each and the remainder will be shared among organisations that promote online privacy.
The settlement also requires Google to do more to educate people about the privacy aspects of Buzz. The settlement has yet to win approval from the federal judge overseeing the case.
The initial rash of complaints about Buzz forced Google to bring in changes that made it an opt-in service and gave users control over who they maintain contact with.
Search suit
In a separate development, Google is facing an investigation by the attorney general of Texas into how it manipulates search results.
The investigation started in July and aims to find out if the way Google treats search results violates the state's anti-trust laws.
Complaints by three firms - Foundem, SourceTool and MyTriggers - are thought to have kick-started investigation.
Don Harrison, deputy general counsel at Google, wrote on the company blog that the company was "looking forward" to working with the attorney general's office as it was "confident" it was acting in the best interests of users.
Mr Harrison also suggested that arch-rival Microsoft was providing help and financing to the search firms making complaints.