Duke Nukem Forever returns in 2011 after a 13-year wait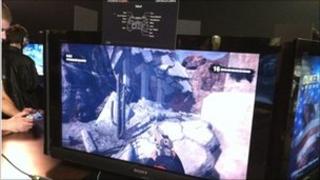 Almost 13 years after it was first announced, Duke Nukem Forever has finally been given a release date.
2K games broke the news on Twitter and then showcased it at the PAX games convention over the weekend.
The game, first announced in 1998, was cancelled in 2009 when its developer - 3D Realms - collapsed.
The title has now been resurrected by US developer Gearbox Software which said it will be released on PC, PS3 and XBox 360 in 2011.
If it does, the game will become the record holder for the longest game between releases, thought to be currently held by StarCraft, which had a 12-year gap between releases.
Eternal wait
The original Duke Nukem was released in 1991 and was a side scrolling shooter that pitted the player against an army of robots.
The game evolved into a true first person shooter in 1996 with the release of Duke Nukem 3D. This also proved popular, but faced stiff competition from the likes of Quake and Unreal which, unlike Duke Nukem, used 3D polygons instead of sprites, resulting in a far better looking game.
Nevertheless, the series had legions of fans who have waited in expectation for the next release.
For many, the wait has been endless, prompting the game to win Wired Magazine's "Vapourware of the Year" award on numerous occasions, a prize given to products that are talked about, but never actually get released.
The new Duke Nukem Forever deal sees Gearbox not just securing the rights to the game, but also the eight team members from 3D Realms who worked on the project.
"It's unbelievable, it kicks ass and it's totally going to happen," said Randy Pitchford, president of Gearbox Software.
"The Gearbox Software team and I are ecstatic that we have grown to a position to be able to pick up and carry the torch and help Duke rise back to glory in his time of need," he added.
Scott Miller, who co-founded the now defunct 3D Realms, said that Gearbox had been "handpicked as the new home for Duke Nukem".