Craigslist dumps 'adult service' adverts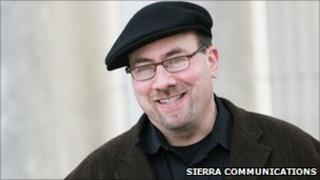 The online marketplace Craigslist has closed the controversial "adult services" listing in the US.
The company has not said why it took the decision, but it has faced an ongoing barrage of criticism from attorneys general and advocacy groups.
They have claimed the listing was a virtual tool for pimps and prostitutes.
The section has now been replaced with a black and white bar that reads "censored". An "erotic" service is still active outside the US.
A statement from Craigslist executives is expected in the coming days.
'Threat to women and children'
Last year the San Francisco based company removed its "erotic services" section and replaced it with a fee-based adult category in response to pressure from 40 state attorneys general.
It also adopted a policy of screening every advert.
In a May blog post, Craigslist chief executive Jim Buckmaster said Craigslist had "gone beyond fulfilling its legal obligations". The site was "a leader in the fight against human trafficking and exploitation," he said.
But critics continued to accuse the firm of helping to facilitate child prostitution.
The listings came under renewed scrutiny after the suicide in prison last month of a former medical student who was awaiting trial in the killing of a masseuse he met through Craigslist.
In early August a paid advert appeared in the Washington Post from two women appealing for the closure of the adult services section. One said she had been forced into prostitution at the age of 11, with the jobs organised through Craigslist.
And last week in a joint letter to Craigslist, 17 attorneys general said women and children would "continue to be victimised in the market and trafficking provided by Craigslist".
'Easy target'
The latest move by Craigslist to close down the service was welcomed by Connecticut Attorney General Richard Blumenthal, a persistent critic of both the erotic and adult listings.
"We welcome any steps toward eliminating the adult services section and prostitution ads on Craigslist, as we have urged, and we are seeking to verify the site's official policy going forward," he said.
"If Craigslist is doing the right thing voluntarily in response to our coalition of attorneys general, it could set an example for others."
But in the blogosphere there has been broad support for Craigslist's position.
"It is surely, though, splendidly naive to think Craigslist would somehow be alone in providing a forum for prostitution ads," said Chris Matyszczyk on the news blog CNET.com.
"However, Craigslist is in the unfortunate position of being high-profile and successful and has become a very easy target in what is a far more complex and nuanced issue than the attorneys general are making out."
And at Wired, Evan Hansen said: "Internet services may accelerate and exacerbate some social problems like prostitution, but they rarely cause them. The root of these issues - and their solutions - lie in the realm of public policy, not web sites."