Net neutrality talks stall in US
By Maggie Shiels
Technology reporter, BBC News, Silicon Valley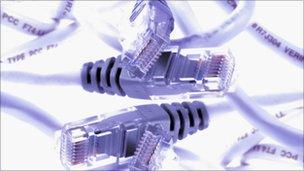 US regulators have halted closed-door meetings intended to find a way to make sure all web data is treated equally.
The Federal Communications Commission began the meetings after a court limited its net regulation powers.
The FCC faced criticism over the meetings by groups that supported the principle known as net neutrality.
The FCC decision follows reports that Google and Verizon hatched a separate deal to allow faster speeds for web sites that pay for the privilege.
"Any outcome, any deal that doesn't preserve the freedom and openness of the internet for consumers and entrepreneurs will be unacceptable," said FCC chair Julius Genachowski.
Both firms denied they were close to an agreement that many fear would lead to a "two-tier internet".
Google said: "We remain as committed as we always have been to an open internet".
In a blog post net service provider Verizon also clarified its position.
"As we said in our earlier FCC filing, our goal is an internet policy framework that ensures openness and accountability, and incorporates specific FCC authority, while maintaining investment and innovation," wrote David Fish, executive director of media relations for Verizon.
"To suggest this is a business arrangement between our companies is entirely incorrect," he added.
Despite the public statements, reports that an agreement will soon be announced persist.
During the Techonomy conference in Lake Tahoe, California, Google boss Eric Schmidt would not be drawn on the issue.
"We have been talking to Verizon for a long time about trying to get an agreement on what the definition of what net neutrality is," he told reporters.
"We are trying to find solutions that bridge between the hard core 'net neutrality or else' view and the historical telecom view of no such agreement."
The issue of net neutrality, which means no data traffic is prioritised over any other, has become a thorny one for the FCC. A recent court case limited the agency's powers to police what happens to data when it ruled that the FCC did not have the power to sanction Comcast for throttling some traffic.
As a result the FCC said it would reclassify broadband under a more heavily regulated part of the telecommunications law known as Title II. Cable and phone companies claimed the move would stifle investment in next generation broadband.
With the fear that these companies would resort to legal action, the agency began holding what critics termed "secret negotiations" aimed at forging a consensus on how to treat internet traffic.
The FCC's move to end these talks with firms such as Verizon, Google, Skype and AT&T suggest they broke down without reaching a decision.
Edward Lazarus, FCC chief of staff, said the talks had not "generated a robust framework to preserve the openness and freedom of the internet".
Public interest groups believe the Google Verizon tie-up, if it came to pass, would change the very nature of the internet and how it operates
"The deal marks the beginning of the end of the internet as you know it," said Josh Silver, president of the Free Press consumer group.
"Since its beginnings, the net was a level playing field that allowed all content to move at the same speed, whether it's ABC News or your uncle's video blog. That's all about to change."
At the Techonomy Conference Mark Carges, chief technology officer of auction site eBay, underlined the company's support for net neutrality.
"eBay supports net neutrality legislation that will prohibit phone and cable companies from replacing the robust open internet with 'Pay to Play' private networks that will force out and discriminate against content and service providers that refuse to pay new tolls," Mark Carges told BBC News.
"Consumers, non-profits and businesses already pay for access to the internet," he said. "Broadband providers should not be permitted to 'double dip' by charging consumers twice for high-speed internet access."
Techonomy attendee Neelie Kroes, European Commissioner for the Digital Agenda, said she was watching the situation in the US closely.
"We are facing the same types of issues and with our discussions we are consulting everyone," said Ms Kroes adding that she was a supporter of net neutrality.
"I know Chairman Genachowski and that he is doing his utmost to find solutions to this issue," she said.
Related Internet Links
The BBC is not responsible for the content of external sites.