Virgin Media complains to Ofcom about Project Canvas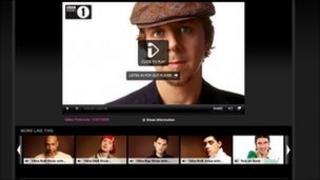 Virgin Media has lodged a complaint with Ofcom, aimed at halting the BBC-backed video-on-demand service Project Canvas.
The cable giant says the project, which is developing common standards for net TV in the UK, is anti-competitive.
BT, Channel 4 and ITV are also partners.
It was given the green light in May, when the Office of Fair Trading ruled it was not a merger.
But Virgin Media said it could destroy the online TV market.
National health specs
It said the collaboration between the three most prominent public service broadcasters would "significantly and irreparably harm" the TV sector.
Describing it as the "national health glasses" of the TV world, Virgin said it would stifle innovation.
"The Canvas partners have significantly exceeded their original claims to be creating a common set of open standards which could have been improved upon by others and are now intent on controlling every aspect of how people watch TV," the firm said in a statement.
"The BBC Trust has already acknowledged, but then completely ignored, the impact that Canvas will have on so many different organisations; from consumer electronics firms to software developers and enterprising new technology manufacturers to independent programme makers.
The BBC Trust, which is the corporation's governing body, gave permission for it to take part in Project Canvas in June 2010.
Project Canvas has been described as an attempt to converge broadcast with broadband, while the BBC's director general Mark Thompson said it was the "holy grail" for future public service broadcasting.
Movie streaming site Blinkbox said it could not understand the complaint.
"I find it hard to see how a not-for-profit organisation creating a standardised non-subscriber platform that not only lowers prices for consumers but speeds up the growth of internet enabled TVs could be seen as having a stifling effect on consumer innovation or consumer choice," said chief executive Michael Comish.
"This complaint by Virgin to Ofcom is another transparent ploy by the company to hold the process up because it knows that when Canvas launches Virgin will lose its only point of difference in this constantly evolving market," he added.
The BBC said it was happy to discuss the grounds of the complaint with Ofcom but remained buoyant about the future of Canvas.
"Our proposals remain unchanged and will create an open standards-based internet connected TV environment within which competition and innovation can flourish," the corporation said in a statement.
"We remain focused on launching a consumer proposition next year that will transform people's daily TV viewing experience," it added.
Sky has also been critical of the venture but has not yet lodged a complaint.