iPhone 4 jailbreak app goes live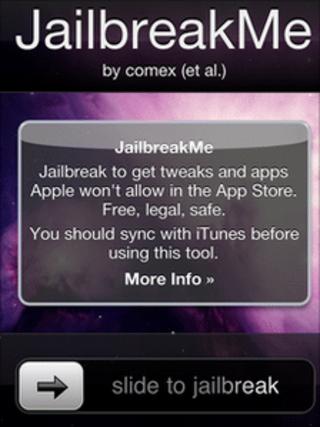 An iPhone utility that lets iPhone 4 owners run non-Apple approved applications, has been released.
Jailbreakme 2.0 works on all iPhones and iPod touches running iOS4, its developers say.
However, there are reports that iPhone owners are losing FaceTime and multimedia messaging services, as well as problems for iPad users.
The utility was launched a week after US regulators announced it was lawful to hack or jailbreak an iPhone.
Unlike previous Jailbreak applications, which required the user to be connected to an external computer before they could install it, this latest version can be accessed and installed using the iPhone's own web browser, Safari.
In a posting on Twitter, one of the developers behind Jailbreakme - who uses the handle "comex" - described the new tool as "exciting" but warned that the server was struggling to cope with demand.
"Please don't e-mail me if the site doesn't load, because I know that," he wrote.
The concept of unlocking an iPhone and using unofficial applications ended up in a legal case in the United States, with the country's Copyright Office ruling that "the practice of removing restrictions on third-party applications fell under fair use guidelines".
The case looked specifically at Apple's iPhone, which has had a number of jailbreaking and cracking applications developed for it.
Apple had argued that the use of these utilities broke American copyright law.
"The user is not engaging in any commercial exploitation of the firmware," the US Copyright Office decision read, "at least not when the jailbreaking is done for the user's own private use of the device."
Officially approved iPhone applications, available from Apple's online store, make the firm 30% of all sales. Unofficial applications, downloaded and installed "below the radar" make Apple nothing in revenue.
Warranty warning
Last week, Apple released a statement warning users against using jailbreaking utilities.
"Apple's goal has always been to ensure that our customers have a great experience with their iPhone and we know that jailbreaking can severely degrade the experience," the statement read.
"As we've said before, the vast majority of customers do not jailbreak their iPhones as this can violate the warranty and can cause the iPhone to become unstable and not work reliably."
There are a number of non-approved applications on the market, many of which are accessible through Cydia - the jailbreak interface that works in a similar way to Apple's Apps Store. However, unlike official products, they are not limited by digital rights management (DRM) software.
Apple has yet to make an official comment on the release of the new Jailbreak application.