Mobile broadband spectrum auctions get green light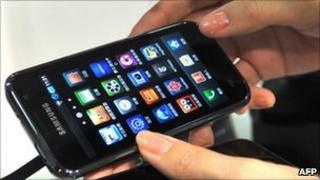 The long-awaited sell-off of airwaves crucial for next-generation mobile services has finally moved a step closer.
The UK government has said auctions will take place late next year, after months of wrangling between the operators.
It should create new mobile broadband offerings and improve mobile coverage.
But the operators are still split over how they want to see new and existing spectrum divvied up.
Rural broadband
Minister for Communications Ed Vaizey has instructed regulator Ofcom to co-ordinate the auction "as soon as possible".
"The past 20 years has seen a revolution in mobile technologies and devices that have transformed the way we communicate, learn and do business," said Mr Vaizy.
"We want the UK market to remain at the fore of delivering devices like the iPad and smart phones but they need the networks to continue to improve and increase services," he added.
The auctions were originally scheduled for 2009 but have been the subject of long delays as operators dispute how it should be conducted.
"It is a complete mess but this is a good first step. There was a real risk that it would be pushed back even further which would have seen the UK fall behind in the European league tables," said Matthew Howett, an analyst with research firm Ovum.
"It is by no means plain sailing though and there will be rough seas ahead," he added.
The auction will see two chunks of the spectrum - the 800MHz and 2.6GHz bands - sold off.
Both have great value to operators.
Sharing it
The 800MHz slice - which has been freed up by the switchover to digital TV - allows mobile signals to travel over greater distances, making it invaluable in the search to find ways of bringing broadband to rural areas.
The higher capacity 2.6GHz band will be more useful in towns and cities where lots of users require services.
One of the more controversial aspects of the government's recommendations is that spectrum originally earmarked for 2G services be freed up for 3G services.
This slice of spectrum - 900MHz - belongs exclusively to Vodafone and 02 because they were the only two mobile operators on the market when it was handed out.
While 02 welcomed the opportunity to use the spectrum for 3G services, it is not so keen on the idea of sharing it with other operators.
"We believe the government is right to direct Ofcom to allow O2 to deploy UMTS900, without condition," O2 said in a statement.
Meanwhile Three called on Ofcom to make sure there was a level playing field for all.
"It is critical for UK consumers that in setting out the auction process Ofcom addresses the distortions now created by allowing the incumbent operators to retain full access to 2G spectrum," said a spokesman for Three.
Across Europe there have so far been six spectrum auctions and Sweden has already launched next-generation mobile services.