Amazon offers new look Kindle for the UK market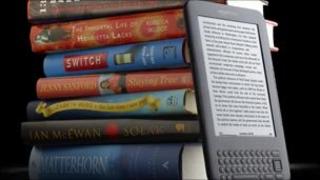 Amazon is releasing a slimmed-down Kindle e-reader with a beefed-up selection of books for the UK market.
It comes as the book giant predicts that digital reading will go mass market with the majority of books being sold in digital format "in coming years".
The e-reader, which has been available on Amazon's US site since 2007, will now also be available on its UK site.
The device will be priced at £149 with free 3G wireless supplied by Vodafone.
More than 200,000 books have been added to the UK Kindle store, including novels from best-selling authors such as John Grisham, Stephen King and Stephenie Meyer.
Speaking to the BBC News, Steve Kessel, the vice president of Kindle, said: "In coming years I do think that the majority of books sold will be digital."
"People prefer the reading experience, you have your library in your hands and can think of a book and download it 60 seconds later," he said.
In the last 30 days, Amazon has sold 180 Kindle books for every 100 hardcover books.
Sold out
Amazon has given the Kindle a make-over and promises it will be "21% smaller and 15% lighter".
It will also have 20% faster page turns and double the storage. A Kindle Wi-fi version will also be on offer, priced at £109.
The new UK Kindle store will be launched on 27 August with more than 400,000 books on offer.
Amazon has been tight-lipped about how many Kindles it has sold although Mr Kessel told BBC News he was unfazed by the success of the iPad.
"It has had no effect on Kindle sales, which have accelerated," he said.
The e-reader is currently sold out on the US site with no indication of when more stock will be available.
The more expensive Kindle DX is still available.
Soon after the release of Apple's iPad, Amazon dropped the price of its US version from $259 (£165) to $189 (£121).
Apple has not been so shy about the success of its iPad which, to date, has sold 3.27 million units around the world, the firm says.