Snapshot of global internet speeds revealed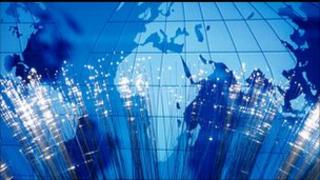 A report based on analysis of huge amounts of net traffic has revealed the state of the internet around the globe.
The data, from network giant Akamai reveals the average global net speed is only 1.7Mbps (megabits per second) although some countries have made strides towards faster services.
The fastest broadband city in the world is Masan in South Korea.
In the speed league table, the UK is ranked 27th out of 201 countries, with an average speed of 3.8Mbps.
This is below the 5.2Mbps average speed calculated by regulator Ofcom in its annual broadband report.
Expensive bandwidth
The UK has slipped slightly compared to its 23rd ranking in the last Akamai report, which are compiled quarterly.
"Other countries have got faster," said David Belson, head of market intelligence at Akamai.
The Akamai State of the Internet report finds that the average maximum speed enjoyed by UK surfers is 12Mbps.
Even in South Korea, which tops the speed league table and is often perceived as enjoying super-fast broadband as the norm, the average speed is a relatively slow 12Mbps, with the average maximum hitting 33Mbps.
"100Mbps is available in South Korea but it is often at prices that are not affordable by the general public. It can cost several hundred dollars a month," said Mr Belson.
Asia dominates
The report looked for the first time at how mobile networks are holding up in the face of greater demand for data on the move.
It found that 83 of 109 mobile providers offered speeds greater than 2Mbps, 33 achieved greater than 5Mbps and six reached beyond 10Mbps.
The global mobile average varied greatly from just 105Kbps to 7.2Mbps, with both of these extremes measured on providers in Slovakia.
In the UK, Akamai looked at three providers, but declined to say which ones.
The average UK mobile speed was between 1 and 3.7Mbps.
"They hold up pretty well on the global scene," said Mr Belson.
Broadband cities
Asia dominates the list of fastest wired cities with more than half of the top 100 cities in Japan. Only 12 US cities make the list.
All the top twenty cites were in either Japan or South Korea, with the exception of Umea, in Sweden, which was ranked 18th.
Other European cities in the top 100 included Baden-Baden in Germany, Wageningen in the Netherlands and Timisoara in Romania.
No UK city made it into the top 100.
The report also looked at where so-called attack traffic, such as phishing and spam, originated. Russia topped this league table with 12% of such traffic.
Akamai delivers between 15 to 30% of all internet traffic. In the first quarter of this year, over 487 million unique IP addresses from 233 countries or regions connected to its network.