Using computers to teach children with no teachers
By Jonathan Fildes
Technology reporter, BBC News, Oxford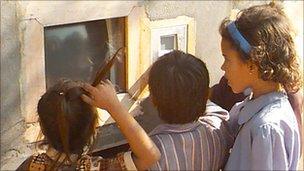 A 10-year experiment that started with Indian slum children being given access to computers has produced a new concept for education, a conference has heard.
Professor Sugata Mitra first introduced children in a Delhi slum to computers in 1999.
He has watched the children teach themselves - and others - how to use the machines and gather information.
Follow up experiments suggest children around the world can learn complex tasks quickly with little supervision.
"I think we have stumbled across a self-organising system with learning as an emergent behaviour," he told the TED Global (Technology, Entertainment and Design) conference.
Professor Mitra's work began when he was working for a software company and decided to embed a computer in the wall of his office in Delhi that was facing a slum.
"The children barely went to school, they didn't know any English, they had never seen a computer before and they didn't know what the internet was."
To his surprise, the children quickly figured out how to use the computers and access the internet.
"I repeated the experiment across India and noticed that children will learn to do what they want to learn to do."
He saw children teaching each other how to use the computer and picking up new skills.
One group in Rajasthan, he said, learnt how to record and play music on the computer within four hours of it arriving in their village.
"At the end of it we concluded that groups of children can learn to use computers on their own irrespective of who or where they are," he said.
His experiments then become more ambitious and more global.
In Cambodia, for example, he left a simple maths game for children to play with.
"No child would play with it inside the classroom. If you leave it on the pavement and all the adults go away then they will show off to one another about what they can do," said Prof Mitra, who now works at Newcastle University in the UK.
He has continued his work in India.
"I wanted to test the limits of this system," he said. "I set myself an impossible target: can Tamil speaking 12-year-olds in south India teach themselves biotechnology in English on their own?"
The researcher gathered 26 children and gave them computers preloaded with information in English.
"I told them: 'there is some very difficult stuff on this computer, I won't be surprised if you don't understand anything'."
Two months later, he returned.
Initially the children said they had not learnt anything, despite the fact that they used the computers everyday.
"Then a 12-year-old girl raised her hand and said 'apart from the fact that improper replication of the DNA contributes to genetic disease - we've understood nothing else'."
Further experiment showed that having a person - known as "the granny figure" - stand behind the children and encourage them raised standards even higher.
Returning to the UK, he fine-tuned his method even further.
He gave groups of four children a computer each and set them a series of GCSE questions.
The groups were allowed to exchange information and swap members.
"The best group solved everything in 20 minutes, the worst in 45 minutes."
To prove that the children were learning, and not just skimming information off the web, he returned two months later and set the same questions. Crucially, this time the children had to answer them on their own with no computer aids.
"The average score when I did it with computers was 76%. When I did it without computers, the average score was 76% - they had near photographic recall."
Professor Mitra has now formalised the lessons from his experiments and has come up with a new concept for schools called SOLE (Self Organised Learning Environments).
These spaces consist of a computer with a bench big enough to let four children sit around the screen.
"It doesn't work if you give them each a computer individually," he said.
For his experiments he has also created a "granny cloud" - 200 volunteer grandmothers who can be called upon to video chat with the kids and provide encouragement.
He has tested the spaces in the UK and Italy, with similar results, and now believes it should be tested more widely.
"We could change everything," he said.
TED Global runs form the 13 to the 16 July in Oxford, UK.
Related Internet Links
The BBC is not responsible for the content of external sites.