PC Zone magazine is to shut after 17 years
By Daniel Emery
BBC Technology reporter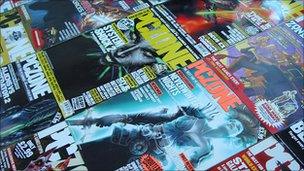 Britain's first ever magazine dedicated to PC gaming is to cease publication after 17 years.
PC Zone magazine, the sometimes anarchic and irreverent monthly journal, is set to close after 225 issues on 2 September 2010.
Future Publishing, which owns the title, said the closure comes in the wake of a strategic review of its PC games portfolio
At its last audit, PC Zone was only selling about 11,000 copies a month.
The magazine started life in a rather dank and dusty basement in Central London.
It rose from the ashes of Zero, a monthly multi-format games magazine that, like PC Zone, was full of off-beat humour, adolescent jokes and, on occasion, courted controversy.
Zero closed down on October 1992. However, most of the staff were retained and formed the core staff of the new, single-format magazine, PC Zone.
The concept of PC gaming was a new one in the early 1990s. Games had traditionally been published on dedicated game consoles, such as the the Sega Mega Drive and Super Nintendo Entertainment System (SNES), along with the legacy generation of micro-computers.
Renegade PR's Tim Ponting, who published the magazine from its first issue untill late 2002, told BBC News that publishing it was perceived as 'madness' by many.
"At the time, the received wisdom was that no one would buy it," he said.
"But, it was a huge success, and the humour followed the legacy left by Zero magazine. It was public schoolboy, very clever, holier-than-though, but it worked," he added.
Three issues in, the decision was taken to give away a free CD Rom every issue, full of game demos. At the time, the internet was in its infancy, so it was the only way gamers could get their hands on them.
This was a massive step. Magazines had traditionally only had a 3.5" floppy disk, with 1.5mb of data. CD Roms had 650mb of space, which meant creating the role, unheard of in magazine publishing at the time, of disk editor.
This was my first step into journalism - before joining the BBC - and, despite a massive learning curve, things went swimmingly. At first.
Two years later, the format of the magazine changed significantly with the appointment of a new editor, John Davison.
"He was much younger. He took games more seriously than the previous editors but the humour less so," said Mr Ponting.
"The style of the magazine changed and a slew of new writers came onboard; the magazine developed a life of its own."
One of these was Charlie Brooker. Fresh out of polytechnic, he initially worked for the magazine producing the occasional game-orientated cartoon.
"I thought you had to be qualified to be a writer," he told BBC News.
"David McCandless [one of the writers on PC Zone] suggested I tried writing and the rest is history.
"PC Zone is where I learnt to write, because when you have to do a five page review on an abstract game, you end up filling it with a few puerile jokes and a 'snideways' look at the world," he added.
The magazine enjoyed record sales, although not without a few stumbles.
My 'faux pas extraordinaire' occurred when I made a CD Rom filled with a thousand Doom levels downloaded from the internet.
Doom was the biggest selling PC game at that point in time, and it was easy for users to create their own custom levels.
Trouble was, trying to download and fill a CD Rom in two days, especially on a slow dial-up modem, meant that there wasn't any chance to actually check the levels before we put them on a disk.
Nine hundred and ninety nine levels were fine, but one of them contained adult content. Not exactly the sort of thing you want on a magazine aimed at teenagers.
Charlie Brooker also came a cropper.
One of the biggest games at the time was Tomb Raider. The heroine, Lara Croft, had to battle hundreds of animals and so Mr Brooker created a cartoon parodying the game.
"It was a mock advert for a zoo that encourages people to kill animals," he said.
"It was based on Lara, but they were worried it would annoy Eidos [the games publishers] so they pulled that part and the end result was in very poor taste."
The cartoon featured a young boy beating a monkey round the head with a claw hammer. Tim Ponting described it as the "lowest point" of his stewardship of the magazine.
On both occasions, the magazine was pulled from the shelves, although - in an ironic twist - they remain some of the best selling issues of all time.
However, the magazine was riding the wave of laddish humour and sales were at an all time high.
But the explosion of internet use and the dot com crash spelt an end to the so-called golden times.
Sales of the magazine started a slow decline, old staff started to drift away and puerile humour was no longer in vogue.
In 2004 the magazine was sold to Future Publishing, who imposed stricter budgetary controls, brought in new staff and redesigned the magazine.
But outside events were taking their toll. Internet speeds had increased dramatically since the early days of dial-up modems, the console market had exploded, with the release of the new PlayStation and Xbox and a slew of gaming websites had sprung up.
People could now get their game demos and review with the click of a mouse, rather than waiting for their fix once a month. The magazine circulation continued to decline with many industry experts expressing surprise that the magazine lasted as long as it did.
"The closure of PC Zone is the end of an era," said Mr Brooker.
"When I was writing for it, in the mid-90s, people were buying the mag on the basis of the CD, and you can get it all on the net now.
"Also, with the growth of consoles, its being assailed on two fronts, because every game I now want to play is on a console. So they were supporting a dying game format on a dying media format.
"It's a shame, but somewhat inevitable," he added.
But Richard Shoemaker, who was the deputy editor on PC Zone, does not think PC gaming, nor magazine publishing, is dead.
"Most PC games are now sold via digital distribution, and people like Steam don't tell us what they are selling," he said
"Just look at Activision; World of Warcraft is one of their biggest titles and that only playable on PC.
"There will always be a place for niche magazines, such as the developers magazine Edge.
"The end of Zone is sad but inevitable. It's pretty impressive that it lasted so long."
In a statement, Future Publishing said they were consulting with the four staff members on PC Zone.
"The team have done a great job in producing a quality magazine over the years, so it's been a difficult decision to make this proposal," the statement read.
"However, our strategy is to focus on the market leader, PC Gamer, in the PC gaming category."
The last issue of PC Zone is due to go on sale 2 September 2010.
Related Internet Links
The BBC is not responsible for the content of external sites.