'We sprang Grandma from the care home'
By Andrew Bomford
BBC News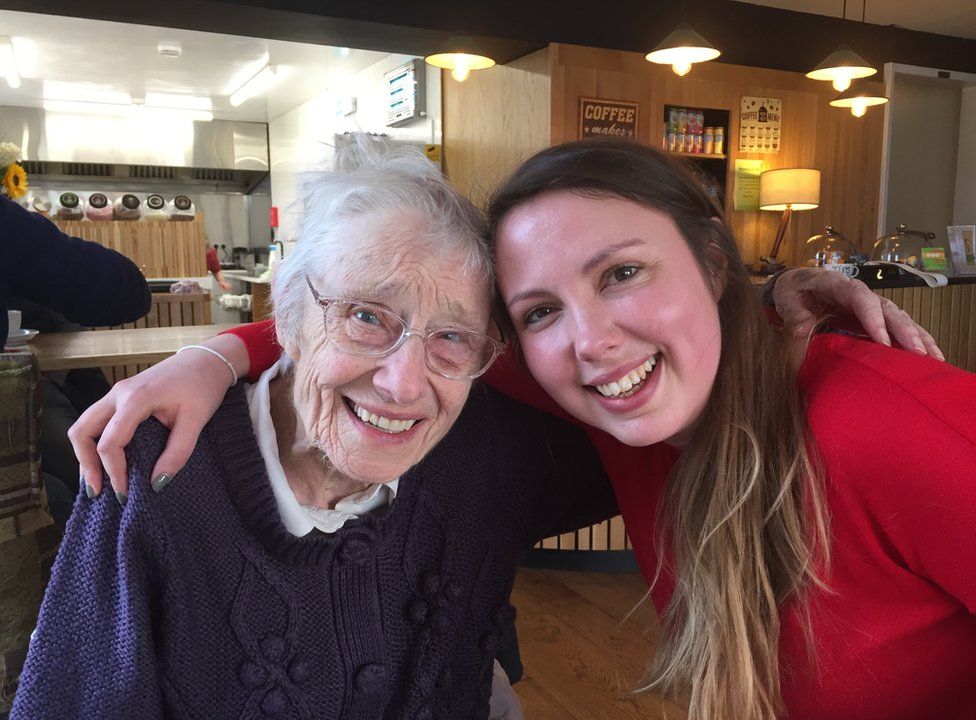 The decision to place an elderly relative in a care home is a difficult one at the best of times, but the coronavirus pandemic and the restrictions on visiting make it even harder. For one family it seemed like the best solution before the virus arrived - but early last month they reversed their decision and brought 95-year-old Rita home.
It's late on a Saturday night, and a private ambulance pulls up outside a care home in Norwich. Rita Perrott, a frail 95-year-old, is helped out of the home in a wheelchair.
"Grandma!" shouts her granddaughter, Anna, delightedly. They give each other a long hug and a kiss. It's the first time in months such normal physical contact has been possible.
Anna appears almost giddy with the audacity of what they're doing.
"We've stolen grandma!" she proclaims.
"A kidnap?" Rita asks, playing along with the joke.
"It's a heist!" says Anna. "We've come late at night to steal grandma back!"
"I think they noticed," observes Ethan, one of the ambulance crew. The care home, of course, has agreed for her to be discharged.
Anna gently tells Rita they're on their way to the home of her daughter-in-law, Sue - Anna's mother. She adds that the reason for the move is that it had become almost impossible to visit her in the care home.
Rita is surprised by the late-night raid - they had no time to warn her in advance - but delighted that she will be able to spend more time with her family.
"Your poor mother!" she jokes.
Rita has dementia, and has grown increasingly weak and frail. She can no longer walk and even finds standing up painful.
Sue and the rest of the family are going to care for Rita now. The doctors say Rita is reaching the end of her life and the family could not bear the thought of her dying alone in the care home.
Even the ambulance crew is struck by the incongruity of what they're doing. "We only ever take people into care homes," they tell Anna and her mum. It's the first time they've taken anyone out of one.
Rita had been in the home, Homestead House in Norwich, since the start of the year. It began as temporary respite care, but morphed into a permanent arrangement. Then coronavirus came along, and scuppered all the family's hopes for the part they would play in Rita's care in her final years.
With the home in lockdown, at first visitors could get no further than the car park, with Anna and Rita separated by a glass door, speaking to each other by telephone.
Later, visits were limited to one person visiting every two weeks, at a distance of 2m and wearing full personal protective equipment (PPE).
It was a far cry from Rita's early weeks in the home, when Anna had even been able to help bathe her grandmother.
Although it had been an agonising decision for the family to place her there, Rita agreed it was the best care option for her, because everyone in the family was leading such busy and complicated lives. And she says she enjoyed living in the home, and making friends with the other residents.
For years she'd been cared for by her son, John, Anna's father, but he developed serious health problems and eventually had to have a leg amputated. For a while he struggled even to look after himself. A spell in hospital for Rita also exacerbated her problems; it was noticeable that her dementia was growing worse.
At one point mother and son were both in hospital at the same time. When Rita was discharged, she was sent to Homestead House while a more permanent care solution was arranged, with Norfolk County Council agreeing to fund her social care.
"Well, you just keep a troshin'," Rita says a few days after the heist, lying in her newly delivered hospital bed in Sue's spare room, and being waited on by the family. Rita has a wealth of old rural Norfolk sayings. "Keep a troshin'" means to carry on threshing.
Rita is carrying on gamely. Basking in the warmth of her family's love and care, she has rallied to some extent and has been sipping sherry from a straw, along with lots of tea and cake. She has a wicked sense of humour and says, with a glint in her eye, that she's looking forward to watching the Tour de France later.
"She likes their legs, you see," explains Anna. "She's only human."
For 95 years Rita has been at the heart of a close family.
Anna's mum, Sue, who is divorced from Anna's father, says Rita practically brought up her three grandchildren - Anna, Elly and Rachel.
"We had some good times all together," Sue recalls. "Lots of laughs."
"Very happy memories… It's been lovely," agrees Rita.
"This is so nice, thank you all," she says, taking quick, short shallow breaths.
"And I do appreciate all you have done. It's such a lovely feeling being loved, and loving back.
"Isn't that nice when you can look back on a happy time, with a dear little family, who've made me so welcome, and so much appreciated. And I thank you all," she says. Then she punctures the moment before it gets too maudlin: "Speech over…"
The family says they understand that care homes have to be strict about visiting, in order to keep coronavirus out. They have no criticism of the care Rita received.
But as her health deteriorated they found the restrictions on visits increasingly intolerable.
Rita lost a lot of weight in the home, and as she grew weaker she was taken to hospital for a few days. And there, it turned out, visiting arrangements were much more flexible.
"We were delighted when she went into hospital, because we could go and see her," says Anna. "It was really lovely."
But within a few days the doctors said they couldn't help her. She was at the end of life, they said, and would need to return to the care home.
Anna asked about the home's visiting arrangements when someone is dying and was told that one family member could visit twice a week for just 20 minutes a time. Again, they would have to wear full PPE and remain at a distance of 2m.
"You're not even able to hold your loved one's hand when they're dying," says Anna. "And the chances are you'd miss it anyway. The idea of her being on her own to die just sounded barbaric and very cruel, not how we'd planned for that to happen."
"The most important time of grandma's life, being with her family was taken away from us," says Sue. "That's why we made our decision for her to come here."
Sue recently retired as a nurse, so feels confident that she can care for Rita. But she says she's aware that many families in a similar situation would not have the space, time, or experience to do the same thing.
Rita's son John, her ex-husband, agrees. Despite the divorce, the family has remained close.
"My greatest fear was that Mum would have passed away and we would not have been able to see her," he says. "I think there needs to be more flex in these arrangements. We support care homes in what they're doing, but at the same time it's a huge tension."
The so-called heist was planned in a hurry, out of a fear that the care home might lock down completely, and not let any of the residents out.
Now the family is concerned that restrictions on household mixing will become tighter.
Since Rita came home, other relatives have also been able to visit Rita, and will continue to do so as long as the rule of six remains in place. They are determined to make the most of the time they have together.
The family thinks Rita would have probably died by now had she remained in the home and they believe her days are numbered even now she is with them. It's something they have been coming to terms with over the last few weeks, and they speak openly and honestly with Rita about it.
"It's not just about dying, but dying well," says Anna.
"We're waiting for a chair upstairs," says Sue. "It's standing room only in heaven but Grandma needs a chair."
"We'll know when it's time," adds Rita.
I asked her how she feels about dying.
"It's fine with me. Everything has worked out ever so well. You only live once don't you?"
"Will you be sad when she dies?" Anna asks her sister, Elly.
"Yes, but I am the person I am because of her and what she did for me as a child," says Elly. "It would just be the end of a lovely life. It will be tainted with sadness because I can't imagine life without Grandma. But it's ending how she would have wanted it to end."
On cue, Grandma suddenly breaks into an old song.
"Now is the hour for me to say goodbye…"
"Oh blimey," exclaims Anna.
"Soon I'll be sailing far across the sea," Rita continues.
"While I'm away, oh please remember me…
"And I can't remember the rest!"
The family breaks into laughter. It will no doubt be a good way to go.
UPDATE 28 October 2020: Rita Perrott died peacefully on Monday 26 October. She was surrounded by her loving family, just as they had hoped.
You may also be interested in:
George is one of tens of thousands of children in the UK who've been taken into care because their parents are unable to look after them. Severely neglected, he struggled to express himself, so when there was something very important he wanted to ask his foster family, he chose an unusual way of doing it.