Climate change: Trump's Paris withdrawal was 'reckless' - John Kerry
By Matt McGrath
Environment correspondent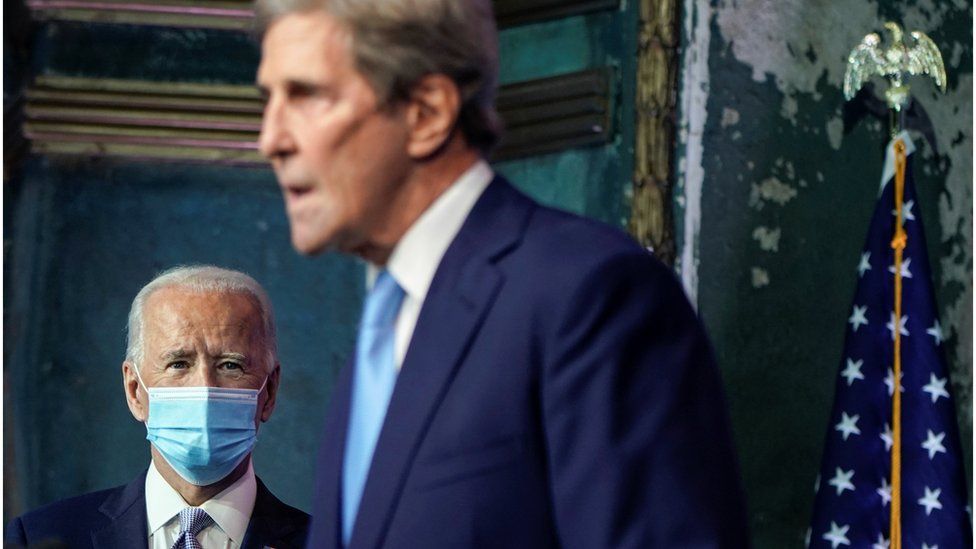 US Special Envoy on climate change John Kerry has said the country will now push for rapid action after four years of "reckless behaviour" under Donald Trump.
Mr Kerry said that withdrawing the US from the Paris agreement had threatened people's futures all over the world.
Mr Kerry said the US would now move forward with "humility and ambition".
And this year's climate meeting in Glasgow would be the "last, most important opportunity" to make progress, he said.
Former Secretary of State John Kerry is the most senior figure dealing with climate change in the new administration.
His high-profile role gives him a position on the National Security Council, and he will report directly to President Biden.
On the morning after the new President signed an executive order seeking urgent re-admission to the Paris agreement, Mr Kerry hit out at the wasted years under former President Trump.
"We know with pain and some embarrassment that, for the last four years, the leader of our country chose to pull out of the agreement and, frankly, engage in reckless behaviour, with respect to the future of people all over the world," Mr Kerry said.
He was speaking remotely to a meeting in Italy of the B20 - a forum for the global business community to make their views known to the G20 group of countries.
A former presidential candidate, Mr Kerry has long been a powerful voice in climate politics. As President Obama's Secretary of State he played a key role in securing the Paris agreement in 2015.
The US would now move forward with "humility and ambition" in the global negotiations.
Time was very short, he argued, and the world was currently moving much too slowly to avoid dangerous warming.
Today, @POTUS rejoined the Paris Climate Agreement, restoring America's credibility and commitment — setting a floor, not a ceiling, for our climate leadership. Working together, the world must and will raise ambition. It's time to get to work - the road to Glasgow begins here.

— Special Presidential Envoy John Kerry (@ClimateEnvoy) January 20, 2021
To get to net zero emissions by the middle of the century, he said, the world needed to phase out coal five times faster than in recent years. Net zero means that any remaining greenhouse gas emissions are balanced out by removing an equivalent amount from the atmosphere, through, for example, planting trees.
Renewable energy would need to be ramped up six times faster, and the transition to electric vehicles needed to take place 22 times faster than at present.
"I think we have to move from those dirty options much faster. Some countries are funding coal-fired power plants around the world, some countries are planning to bring increased coal-fired power online. So my plea to everybody is that we have to reach a much faster path of decarbonisation, it is doable."
This year's Conference of the Parties, known as COP26, is due to take place in Glasgow in November having been postponed for a year because of the coronavirus pandemic. It will be crucial for the future of the world, Mr Kerry said.
"We really have the world's last most important opportunity to come together to raise ambition and to take the next step from Paris."
"Failure is simply not an option."