Euro-Russian Mars rover mission takes shape
By Jonathan Amos
BBC Science Correspondent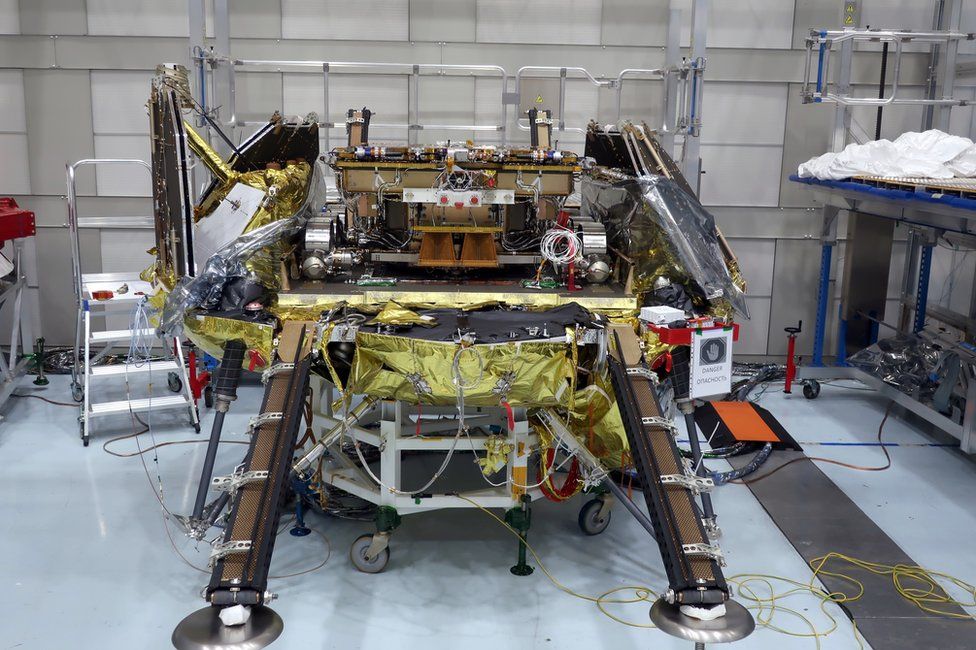 A key milestone has been reached in the preparations for the joint European and Russian mission to Mars, scheduled for launch from Earth in 2022.
The Rosalind Franklin rover, which will search for life, has been mated to the Kazachok platform that will land it on the surface of the Red Planet.
It's the first time the two have been joined together.
The fit-check was conducted by engineers at the Cannes, France, factory of Thales Alenia Space.
The UK-assembled robot is seen sitting atop the lander in a folded configuration - as it will be for the journey to, and the touchdown on, Mars.
The rover and lander will later be enclosed in a capsule and then attached to a cruise module.
The capsule's job will be to protect the Franklin robot and Kazachok platform from the searing heat that is encountered on entry into Mars' atmosphere. The cruise module is the vehicle that shepherds the whole mission to the Red Planet after launch.
All the elements must go through not only a physical fit-check, but an assessment of the electrical, power and data-connections between them.
Once the work at Cannes is compete, the four major parts of the "stack" will be disassembled for despatch to the Baikonur launch site in Kazakhstan. Re-assembly will include the insertion of some radioisotope heaters in Rosalind Franklin to help ward off the freezing temperatures on Mars.
The mission is targeting a September 2022 liftoff, with a landing at the Red Planet in June 2023. The destination is an ancient terrain called Oxia Planum. Scientists hope there might be evidence there of microbial activity, if only billions of years in the past.
Known as the ExoMars project, the joint European-Russian venture should have left Earth in July/August this year but the hardware could not be prepared in time - in part because of the difficulties introduced by the Covid-19 crisis.
The picture at the top of this page shows the rear of the rover and a ramp for rolling down on to the surface.
In the second image from the Cannes factory, you can see the front of the rover (there is a second ramp out of view). The rover's drill system, which will reach 2m below ground to pull up samples, is in the brown box between the front two silver wheels.
Notice how the robot's solar panels have been folded inwards and how the mast, with its white camera head, is laid flat. Before Rosalind Franklin rolls on to the planet, it will have to "stand up", deploy its solar panels and raise its mast.