UK climate targets too low, economists say
By Roger Harrabin
BBC environment analyst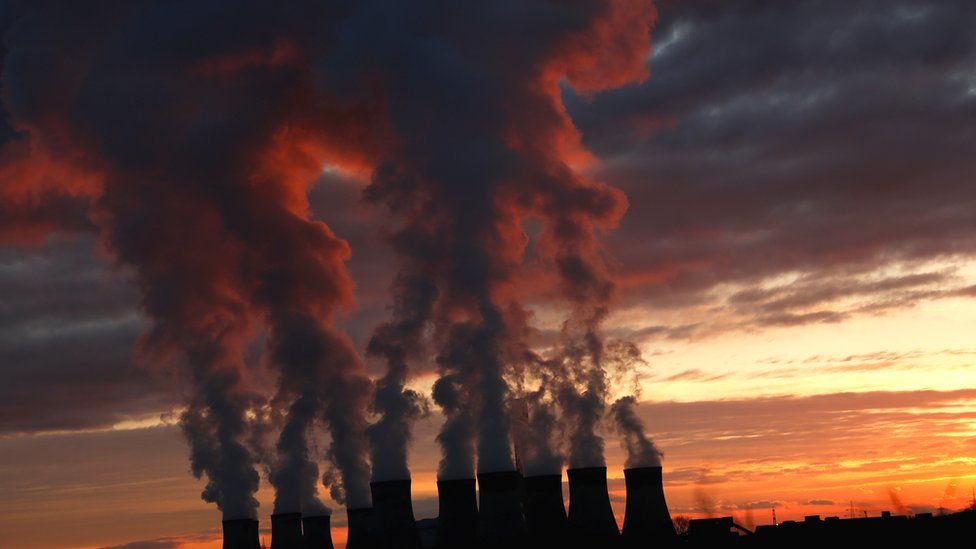 The UK prime minister's recent 10-point climate plan won't do enough to achieve his goal of curbing the country's greenhouse emissions, a report says.
A consultancy has calculated that the UK will need to go further and faster to achieve its commitment of net zero emissions by mid-century.
UN scientists say massive emissions cuts are needed immediately to stop CO2 accumulating in the atmosphere.
So, the year 2030 is a key date for avoiding dangerous climate change.
The analysis by Cambridge Econometrics suggests Mr Johnson's plan will reduce emissions 59% per cent by 2030, based on 1990 levels. It says they should really fall by 70% by that date.
It's rumoured that government advisers the Committee on Climate Change (CCC) will tell ministers that a percentage target reduction in the upper 60s will be needed.
The analysis released on Monday was commissioned by the Prince of Wales Corporate Leaders Group – a network of business heads concerned about climate change. Sixty of them have written to the PM to urge him to reduce emissions further still by 2030.
The intervention comes at an important time, because the UK is set next month to declare its 2030 climate target to other nations in the hope of persuading them all to do more.
The formal announcement will come at a special global meeting called by Mr Johnson for 12 December, but it's believed that the UK's 2030 target will be unveiled in coming days, in order to encourage other countries to raise their ambition.
Nations' climate commitments will come in the form of what's known as an NDC – a nationally determined contribution towards the world goal of keeping temperature rise as close as possible to 1.5C.
The business leaders' letter states: "As the UK calls on other governments to set their own increased NDCs, it has a unique opportunity to catalyse action globally and lead the way for other countries to reflect this level of ambition.
"We hope you will announce an ambitious UK (target) before the end of the year."
Eliot Whittington, director of the group, urged the government to go further in order to generate British jobs in "green" industries.
He told BBC News: "There's a major problem with plans to decarbonise Britain's buildings. It's a huge challeng, but the government has only committed £1bn for next year. The scheme is barely off the ground, and one year doesn't offer enough longevity to let industries get up and running."
One signatory to the letter, Keith Anderson, who is chief executive of Scottish Power, said: "Setting an ambitious target of 70% by 2030 would be a clear signal to investors that the UK is ready to build back greener and that it's happening now."
Sarah Bentley, chief executive of Thames Water, said: "Setting an ambitious NDC will help to stimulate low carbon innovation, solutions and actions across the economy."
Scotland has confirmed that it will aim for a 75% emissions cut by 2030.