MPs call for end to 'throwaway clothes' era
By Roger Harrabin
BBC environment analyst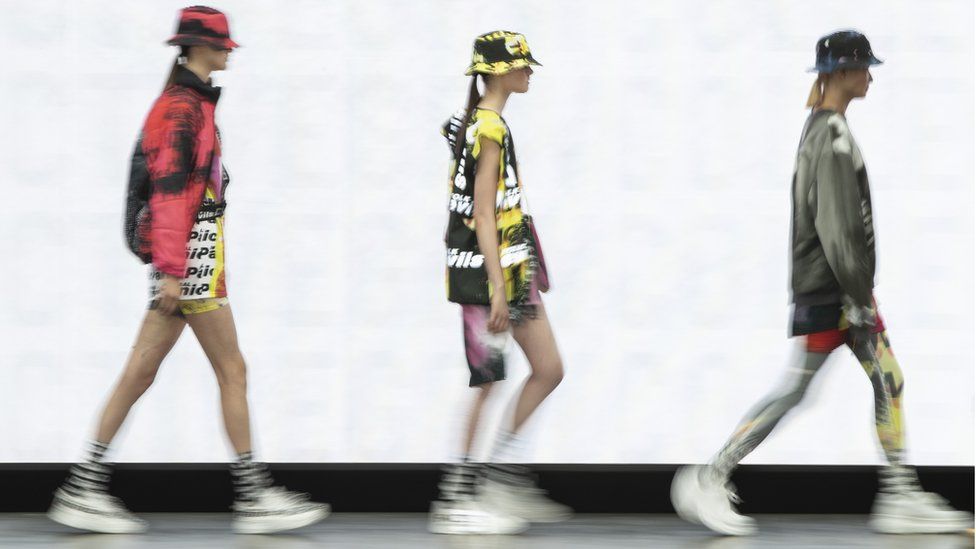 A report by MPs has urged the UK government to end the era of throwaway clothes and poor working conditions in the fashion supply chain.
The MPs' proposals are designed to force the fashion industry to clean up its act.
They made 18 recommendations covering environmental and labour practices and want the government to act.
Not only is the fashion industry a source of emissions, but old clothes pile up in landfill.
Fibres also flow into the sea when clothes are washed, polluting the marine environment.
A government spokesperson said it was dealing with the impacts of fast fashion - and many measures were already in place.
Among the proposals from the Environmental Audit Committee (EAC) were:
A 1p charge per garment on producers to fund better recycling of clothes;
Ban on incinerating or landfilling unsold stock that can be reused or recycled instead;
Mandatory environmental targets for fashion retailers with a turnover above £36 million;
Tax changes to reward reuse, repair and recycling - to support responsible fashion companies.
The EAC's chair, Labour MP Mary Creagh, said: "Fashion producers should be forced to clear up the mountains of waste they create.
"The government is content to tolerate practices that trash the environment and exploit workers despite having just committed to net zero emission targets.
"It is out of step with the public who are shocked by the fact that we are sending 300,000 tonnes of clothes a year to incineration or landfill."
But ministers cite the Sustainable Clothing Action Plan (SCAP), a voluntary agreement co-ordinated by the waste watchdog WRAP.
This sets targets for the industry to reduce carbon emissions, water and waste.
The government also maintains it's better to find outlets for waste textiles rather than simply imposing a landfill ban.
A government spokesperson said: "It simply isn't true to say we are not accepting the committee's recommendations.
"In our landmark Resources and Waste Strategy we will take forward measures including developing proposals and consulting on extended producer responsibility (EPR) and higher product standards for textiles.
"This would make producers responsible for the full cost of managing and disposing of their products after they're no longer useful."
Tolmeia Gregory blogs about ethical fashion under the name TollyDollyPosh.
Go vintage: "Do things like shopping second-hand and vintage, going to your local charity shop. You can also buy on sites like eBay and Depop."
Buy less: "If you can, just not shopping at all is a really great way to do it. Embracing what you already own and what's already in your wardrobe. There's a great phrase you hear a lot: 'Loved clothes last'".
Look for eco-friendly materials: "Look out for more natural fibres - go for cotton over polyester. Not only do they feel a lot nicer when you wear them, but don't contain things like microfibres that go into our water and into marine life when we wash our clothes."
Learn to DIY: "It doesn't take much to learn how to hand-sew and stitch up a hole. Or if you have a pair of ripped jeans that are becoming a bit too ripped, you could always cut them and keep them as shorts."
Ministers say they're focusing on a tax on single-use plastic in packaging, rather than a tax on cheap fashion items.
They point to Sweden's VAT reduction for repair services, which they say has made little impact.
They say they will consider a levy on clothes alongside their plans for making firms in different sectors more responsible for their waste - but no decisions will be made on this until 2025.