Climate change: How your duvet can help the environment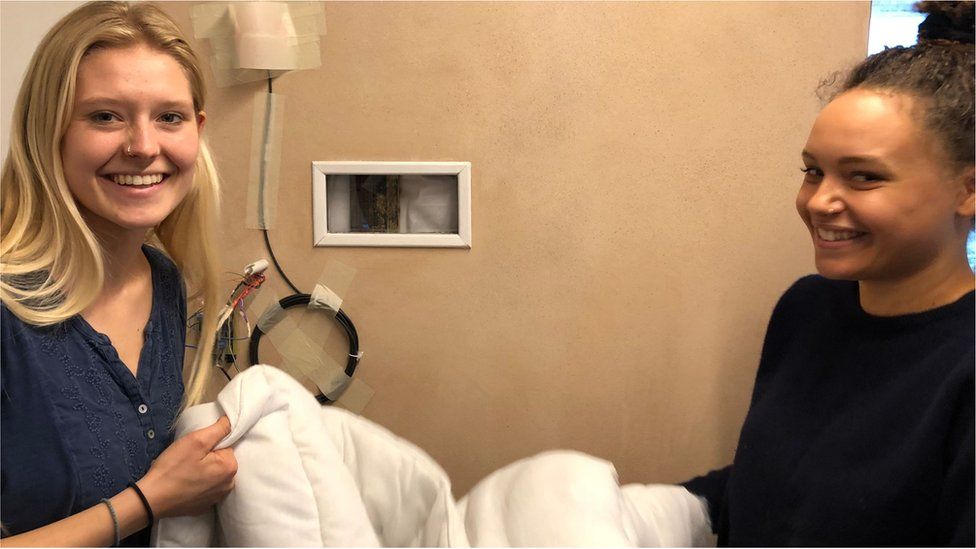 While the world tackles plastic waste, some experts feel other forms of waste need attention too… like duvets.
Yes, duvets. A student city like Brighton throws away tens of thousands of duvets a year.
They are buried in landfill or burned - but researchers are trying to insulate walls with them instead.
It's the sort of idea being promoted at a waste summit in London on Thursday to be addressed by the Prince of Wales and Environment Secretary Michael Gove.
The summit brings together 200 leaders from business, government, universities and voluntary groups in a bid to squeeze more useful life out of the materials we use.
Making goods (like polyester duvets) uses energy and releases greenhouses gases – and the Prince and the politician both say we can't tackle climate change unless we use materials more intelligently.
The target for firms at the summit is to reduce avoidable waste by 2030 and double the nation's resource productivity – that means getting more service from existing materials, and finding new uses for old materials.
Where denim legs keep a house warm
The Waste House in Brighton – where the duvet experiment is happening - offers a lesson in re-use of resources that would otherwise have been scrapped.
The house looks normal but its structure is built from construction waste, which forms the majority of the waste stream in the UK.
In its hollow walls they are testing the insulation qualities of an unlikely host of scrap - including old floppy discs; audio cassette cases; unfashionable rolls of wallpaper and – bizarrely - 1.8 tonnes denim legs cut off from trousers to make shorts.
The black tiles on the exterior walls look traditional, but are in fact carpet tiles with the waterproof rubber back facing outwards.
Cat Fletcher, who calls herself the "Resource Goddess" and runs re-use programmes in Brighton, told BBC News: "I just hate waste. I hate it passionately. We simply can't afford to keep throwing things away like we do on our planet with finite resources."
More than 40 leading businesses have signed a commitment to the so-called Waste to Wealth summit. It's organised by the Prince's Business in the Community (BITC), which encourages responsible business.
They are committing to devising creative solutions for re-using waste materials, and to designing products that use less material in the first place.
The initiative will support the government's forthcoming Waste and Resources Strategy, which is due before Christmas.
Ministers are under pressure from waste campaigners to produce policies that minimise waste. They want the Treasury, for instance, to scrap VAT on refurbishment on homes.
'Insane' tax break to demolish buildings
Duncan Baker-Brown, the architect of the Waste House, told BBC News: "You pay 20% VAT to refurbish a building, but zero VAT to demolish and rebuild. There is a tax incentive to knock buildings down, which is frankly insane."
A survey of over 2,000 UK adults published today by BITC and Ipsos MORI shows consumers want to do their bit to reduce waste.
The most popular actions from business to help consumers were:
Money-back incentives to encourage return of used packaging
Dedicated spaces in shops to return used packaging and clothing
Loyalty points
Hiring things rather than buying them
Amanda Mackenzie, chief executive of Business in the Community, said: "The old adage 'waste not want not' has never been more relevant.
"The research shows that customers welcome action from business which encourages them to do the right thing. Let's tackle this critical problem together and lead the world in doing so."
Signatories to the BITC initiative so far include Co-Operative Bank, Deloitte, Greggs, Heineken, Iceland, Lloyds Banking Group, Marks & Spencer, PwC, Sky, Thames Water, Toyota, Costain, Arup, Marshalls, Unilever and Veolia.