Badger culling has 'modest' effect in cutting cattle TB
By Pallab Ghosh
Science correspondent, BBC News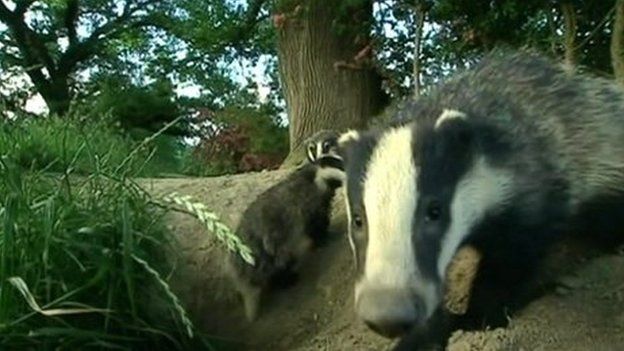 An independent scientific review has said that badger culling can have a "modest" effect in reducing cattle TB.
But it adds that the policy would lead to more than 40,000 badgers being culled a year.
The report says that such high levels of culling may not be publicly acceptable.
The authors urge the government to accelerate the development of non-lethal controls, such as vaccination.
The findings were published in a review led by Prof Sir Charles Godfray of Oxford University.
But one expert said the report had little to say about the effectiveness of the current badger culls.
The report was commissioned by Michael Gove, Secretary of State for Environment, Food and Rural Affairs, in February.
He asked an independent group of scientists to review Defra's strategy for controlling the spread of tuberculosis (TB) in cattle. According to Prof Godfray he was "explicitly asked" not to look at the effectiveness of the current culls.
Instead Prof Godfray and his team drew on the results of the Randomised Badger Control Trials carried out between 1998 and 2007.
These showed that culling tended to increase TB in badgers because of increased movement.
It did, however, find that a reduction of between 12% and 16% in the rate of new cases of cattle TB was theoretically possible, but with significant caveats: the culling had to be carried out over a large area with natural boundaries for between eight to twelve days each year for four years and that more than 70% of badgers had to be killed.
Since culling began in 2013, scientists and campaigners have expressed concerns that the culls that have been rolled out by Defra have not been in accordance with the strict criteria set out by the expert group because they have proved too expensive or too difficult.
They say that improperly conducted trials could actually increase cattle TB rates.
But Prof Godfray notes that, in principle, culling is one of the tools ministers have at their disposal and it should be up to them whether its marginal benefit was worthwhile.
"We conclude that culling does have an effect on the disease. The phrase we use is 'a real but modest effect'," he said.
"If nothing else is involved then one would obviously cull, because if one does not cull one is throwing away one of the tools. But of course there are many other factors involved."
Another argument Prof Godfray puts forward in favour of culling is that it makes affected farmers more amenable to carry out unpopular and costly disease control measures on their farms and in transporting their cattle.
"It is likely that the farming industry would be more willing to accept other interventions that could negatively affect dairy and beef profitability if they believed that the threat of transmission from badgers was being robustly addressed," he said.
The report warns however that continued culling "would not be acceptable to some (possibly large) sections of the public, and the costs of policing could be substantial" and says that a shift away from culling is "highly desirable".
Specifically, it emphasises the need for a proper evaluation of badger vaccination.
Prof Godfray's report also states that infections from cattle to cattle is higher than had been thought, possibly because the current so called skin test used to test for the disease is less reliable than experts once believed. It therefore urges that Defra adopts more sensitive tests.
The farming minister welcomed the report and said that Defra would give its response by next summer.
''We welcome this review of the government's 25-year Bovine TB strategy and I extend my thanks to Sir Charles Godfray and his team for their hard work in producing the report.
"Sir Charles' report is an important contribution that will inform next steps in the strategy to achieve officially TB free status for England by 2038.''
Prof Rosie Woodroffe of the Zoological Society of London (ZSL) said that the report had many good ideas but said nothing about the effectiveness of the current badger culls.
"The report contains little critical evaluation of whether the current farmer-led culls are effectively reducing cattle TB," she said.
"It reports results from the first two years of monitoring without mentioning any of the caveats included by the original authors. It makes no mention of more recent data, which have suggested incidence might be falling in two areas but rising in a third."
Prof Lord John Krebs from Oxford University, who led the Randomised Badger Control Trials, said that the report indicated that Defra and farmers need to do more if cattle TB is to be stamped out.
"Currently, much of the spread of TB in cattle arises from a combination of disappointingly low uptake of measures to prevent cattle coming into contact with badgers, trading of infected cattle, and the low sensitivity of the standard skin test for TB, which means that there is likely to be a hidden reservoir of infection in many cattle herds in high risk areas," he said.
"Unless the government and the farming industry tackle these problems now, TB will not be eradicated or controlled."
Related Internet Links
The BBC is not responsible for the content of external sites.