'Guns, germs and trees' determine gorilla's fate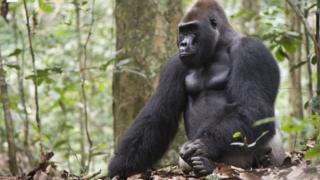 The survival of gorillas in the forests of Africa depends on guns, germs and trees.
So say the scientists behind the largest ever survey of western lowland gorillas across their range.
The study, based on a decade's worth of field research, found more gorillas than in previous estimates.
However, the vast majority are in unprotected areas, where they are at risk from illegal poaching, Ebola and habitat destruction.
A similar picture was found for central chimpanzees. Both great apes live in the remote forests of Cameroon, Central African Republic, Congo, Equatorial Guinea and Gabon.
"Guns refers to hunting; germs refers to Ebola; and trees refer to the fact that these are forest animals which need a dense and intact forest to survive," said Dr Fiona Maisels, Conservation Scientist for the Wildlife Conservation Society and a co-author on the study.
"If you clear the forest they're all gone. If you convert the forest to a monoculture you certainly can't have gorillas and chimps."
'Staggering' extent of great ape trade
Our changing attitudes to chimpanzees
Population trends
Writing in the journal Science Advances, international researchers argue that great ape populations require more attention than they currently receive.
Conservation efforts must focus on reinforcing anti-poaching measures, disease control measures and preserving high quality habitats, they say.
"Because 80% of western lowland gorillas and central chimps live outside the protected areas, it's essential that they get as much protection as possible," said Dr Maisels.
The researchers found substantially higher numbers of gorillas (361,900) and chimpanzees (128,700) in Western Equatorial Africa compared with previous estimates.
They calculated the annual population decline of gorillas to be 2.7% between 2005 and 2013.
The western lowland gorilla is the most numerous and widespread of all gorilla subspecies
Gorilla gorilla ssp. gorilla (Western Lowland Gorilla) is classed as Critically Endangered on the International Union for Conservation of Nature (IUCN) Red List.
According to the IUCN, poaching is intensifying with the expansion of access routes into forests, while Ebola virus lingers in the forests of the region.
In addition, habitat loss due to industrial agriculture is increasing.
Pan troglodytes troglodytes (Central Chimpanzee), classed as Endangered, also remains highly vulnerable due to illegal hunting, expansion of the commercial bushmeat trade, habitat loss and degradation and Ebola virus.
Follow Helen on Twitter.