100 Women: Where are the female Nobel Prize winners?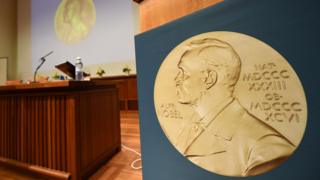 The 2017 Nobel season is still under way, with the prizes for peace, and economics yet to be announced.
But for the sciences, this year's work is done and many in the scientific community are noticing some similarities about the winners.
In the case of physics, the winning discovery had already been making global headlines.
The prize was shared by three researchers for the groundbreaking 2015 detection of gravitational waves.
For chemistry, the committee recognised the less publicised work of developing a new microscopy technique, which the Nobel committee said had "moved biochemistry into a new era".
For physiology or medicine, a team who uncovered a better understanding our body clocks was honoured.
However, the science community was quick to notice that this year's laureates all had one thing in common.
What is 100 Women?
BBC 100 Women names 100 influential and inspirational women around the world every year. In 2017, we're challenging them to tackle four of the biggest problems facing women today - the glass ceiling, female illiteracy, harassment in public spaces and sexism in sport.
With your help, they'll be coming up with real-life solutions and we want you to get involved with your ideas. Find us on Facebook, Instagram and Twitter and use #100Women
---
With prizes often awarded years, or even decades, after the discoveries that merit them, it was an opportunity for celebration for the teams involved.
The Astronomer Royal, Sir Martin Rees, said the three physicists honoured by the Nobel Committee were "outstanding individuals whose contributions were distinctive and complementary".
Yet despite being excited by the wider recognition of this groundbreaking research, it is clear that many scientists feel a change is necessary.
Only 17 women have been awarded a Nobel prize in the three science categories since the awards' inception in 1901. There have been no black science laureates.
Of the 206 physics laureates recognised, two have been women - Marie Curie (1903) and Maria Goeppert Mayer (1963).
There are more men named Robert on the list of previous chemistry winners than there are female laureates.
Some researchers on Twitter took issue with the current criteria for awarding the Nobel. Each prize cannot be shared by more than three people, laureates are not nominated posthumously, and nomination lists are kept confidential for 50 years.
Vera Rubin, Lise Meitner and Jocelyn Bell Burnell were all cited as worthy potential recipients of a prize in previous years.
Rubin's death in 2016 means that her work on dark matter, believed to occupy most of the mass in the universe, is now ineligible for recognition.
Meitner's long-term collaborator Otto Hahn was awarded the chemistry prize for nuclear fission in 1944, which she did not share, despite being nominated in previous and subsequent years.
Burnell and Chien-Shiung Wu, both physicists, also saw their colleagues win for research they had worked on, but were not included.
Given the lifelong prestige of becoming a Nobel laureate, the prize is a significant boost to any researcher's career. The acclaim can legitimise a life's work, and yield international notoriety in a field where funding is highly competitive.
Yet for women in physics and chemistry, there are few forerunners to aspire to. Medicine does only slightly better, with 12 female laureates.
Other prizes such as literature often fare better in terms of gender equality, with previous winners including Alice Munroe, Doris Lessing and Toni Morrison.
This year the literature prize has gone to a Japanese-British male author - Kazuo Ishiguro.
While equality initiatives like Athena Swan and organisations like Stemettes work to promote and encourage women, the Nobels remain the most prominent glass ceiling in the world of science.
As part of this year's 100 Women Challenge, a team in Silicon Valley, where women hold just one in 10 senior positions, will be looking at ways to tackle the glass ceiling.
They reveal their results on Friday 6 October.