Memorial held for green campaigner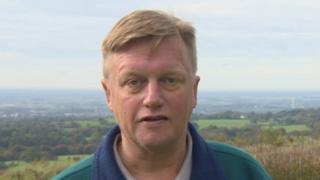 A memorial service has been held for the influential environmentalist Stephen Tindale, who died in July.
Mr Tindale was the UK head of Greenpeace from 2000 to 2005.
Around 200 family members and colleagues from the environment movement attended at Mary's Church, Primrose Hill to pay tribute.
Former Labour leader Ed Miliband said: "Stephen played a huge role in bringing the environment into the political mainstream."
Michael Jacobs, a former adviser to Gordon Brown, said: "The environmental movement is more pragmatic and effective in terms of government and policy than it used to be. That's because of Stephen."
Mr Tindale took his own life in July while suffering from depression. He was 54.
In the 1990s, Mr Tindale worked for Labour's shadow environment secretary Chris Smith in drawing up In Trust for Tomorrow, a radical over-arching strategy synthesising the environment, economics and social issues.
In his tribute, Lord Smith said: "Stephen always applied first and practical principles to everything. He had a huge impact on the shaping of environmental policy here in the UK.
"It is a matter of enormous regret and sadness that he's no longer with us to help us to shape the future. We won't do as good a job without him."
Andrew Warren, a veteran campaigner against energy waste, praised his life's work, and urged the Labour Party to revisit In Trust for Tomorrow.
He said: "If Stephen's sad death could possibly have one positive effect, it would be for his magnum opus to be resurrected."
Mr Tindale zig-zagged through the broad environment movement, working for Friends of the Earth; the Fabian Society; the Institute for Public Policy Research, the Labour Party and the government. He also directed the Green Alliance.
After the Labour landslide in 1997, he became special adviser to the environment minister Michael Meacher. Over three trend-setting years, the UK signed the Kyoto protocol, launched the climate change levy and passed right-to-roam legislation.
He left government, blaming powerful vested interests for opposing change for their own ends.
Later, at Greenpeace, he shifted the group towards technological solutions such as offshore wind power. Controversially, in recent years he infuriated former colleagues by embracing nuclear power and genetic modification.
He came to see these as essential tools in solving problems of climate change and world hunger.
He was a passionate hill-walker, and believed one of his greatest achievement was helping to frame the Countryside and Rights of Way Act which allowed walkers in the England to wander over land designated as Open Access.
Follow Roger on Twitter.