Can your pet tell how you feel?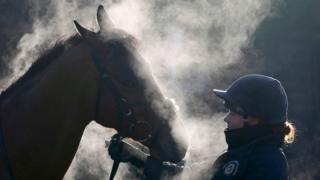 Horses can distinguish between happy and angry human emotions, according to new research.
We asked if your pet could recognise your emotions.
Many of you got in touch with us to share your stories and pictures. Here, is a selection of your comments.
---
John McGregor, from Northumberland, UK writes: "My wife and I have had horses for over 30 years, with a total currently standing at seven.
"We have been well aware they can read our moods.
"The real skill is to suppress your annoyance while chasing them around a muddy field in the pouring rain."
---
---
Veronique Troniseck, from Belgium, emails: "I must have been around seven-years-old or eight when we had our first Siamese cat, Tai.
"He was my best friend until he died at the age of 16 from diabetes.
"At 11, I lost all my real friends, when we moved.
"I felt quite lonely, and had some periods when I was really down.
"On several occasions, when I was sitting in my room, my cat started to do various funny stuff and didn't stop until he saw that he had made me laugh"
---
---
Sarah Morgan shared her picture of her dog Ramsey, saying: "He has an intense gaze and very mobile ears and can process words, especially 'chicken' and 'smoked salmon' funnily enough.
"However, he also responds strongly to negative atmospheres - sometimes being sick or getting a bad tummy if things stress him out."
---
---
---
David Thorp shared his painting featuring World War One horses, saying: "I talked to a horse specialist when I started painting this picture.
"He said if you are worried or concerned, never look a horse in the eye.
"The soldier on the right, who is trying to get the horse hooked up to the gun, should not have been looking at the horse's face, as the horse would recognise the concern the man had."
---
Melissa Beck said: "My girl is an Australian cattle dog.
"She's very intelligent.
"She knows my moods inside out.
"She even knows when I'm in pain.
"Her face changes, she becomes sad and doesn't know what to do to make it better.
"She's the best dog I'll ever have."
---
---
Katie Knott says of her horse: "I bought Jack as a two-year-old in May 2014.
"Jack recognises when I'm in a happy or sad mood.
"If it's the latter, he will be more cautious.
"If I give out a large sigh, he will relax in scary situations.
"Horses are far more complex, intelligent and emotional than we realise."
---
Produced by Paul Harrison