3D printed tech to steer Bloodhound Super-Sonic Car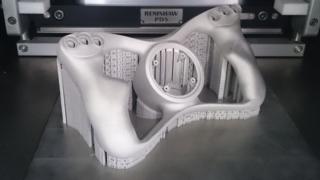 When the Bloodhound Super-Sonic Car is unveiled this week, the public will be able to see the many innovative technologies used in its construction.
Several surface panels will be removed so that people can look inside to get a sense of the engineering required to make a car move faster than 1,000mph.
Given the bespoke nature of Bloodhound, a significant number of its components have been fabricated using 3D printing techniques.
This includes even the steering wheel.
With over 3,500 custom-made parts, it would have been prohibitively expensive, and wasteful, for the Bloodhound project to use traditional batch production approaches in many instances.
The complex design of the car also demands shapes that are difficult - sometimes impossible - to make using traditional tooling.
As a consequence, the car's designers were always going to make good use of "additive manufacturing".
The steering wheel is a good example because its shape is unique.
Its contours are precisely designed to match the hands of driver Andy Green.
"We've actually used a scan of Andy's hand form, and if I machined that it would take an awfully long time," said Bloodhound components chief Conor La Grue.
3D printing allows for rapid prototyping to find the "architecture" that feels most comfortable to the RAF Wing Commander, and to test the properties of the "grown" structure.
Renishaw PLC of Wotton-under-Edge has been tasked with producing the steering wheel.
Its final version will be made in the next few weeks from titanium, and will take three to four days to produce at the Gloucestershire company's factory.
Renishaw uses a powerful laser to fuse micron-scale metal particles together, creating the steering control layer-by-layer.
The same goes for the titanium nose tip on Bloodhound, which will experience huge aerodynamic loads as the 13.5m-long car hurtles across its desert racetrack in South Africa next year.
Other printed parts include the auxiliary air intakes, which sit on both sides of the car, just behind the carbon-fibre monocoque in which Andy Green will sit.
These features channel air into the rear of the vehicle to cool a Jaguar V8 engine and a pump, which will drive "high-test peroxide" (HTP, a powerful oxidiser) into Bloodhound's rocket system.
The intakes are not titanium, but carbon fibre.
They have been produced by Graphite Additive Manufacturing of Aylesbury, using a technique called selective laser sintering.
This fuses single layers of carbon, building up shapes that would otherwise be very expensive and time-consuming to produce from a cast.
And then there are the sensor brackets, which have been grown from powdered ceramic.
Bloodhound is fitted with 500 sensors that monitor such parameters as air pressure, chassis flex and movement in components.
This number is more than twice as many as the sensors fitted to an F1 car.
Mr La Grue stressed that component printing had only been used where the design team saw a genuine benefit, and not just for the sake of it.
"Additive is great for a one-off, complex part, so for Bloodhound it's a really good way to save on tooling and machine holding, but if the properties in the component aren't there, we won't use it."
And he cited the example of the exquisitely-shaped impellors inside the oxidiser pump.
"Each impellor takes five weeks to machine, whereas we could grow one in a week, so it was certainly attractive to try to grow them. But we just didn't have enough confidence - in how porous the grown titanium material would be and what that would mean for its interaction with the HTP, and also in understanding how strong the different interfaces in the grown component would be."
Bloodhound is now more than 95% complete.
It is be shown to the public in a sold-out expo at the East Wintergarden venue in London's Canary Wharf on Thursday, Friday and Saturday.
Engineers will then take the vehicle back to its design HQ in Bristol for integration of the remaining components.
A series of shakedown runs at Newquay Cornwall Airport is planned, most likely at the beginning of 2016, before the car is packed up and flown out to Hakskeen Pan in Northern Cape to begin its assault on the world land speed record.
This currently stands at 763mph (1,228km/h), set by Andy Green in Thrust SSC in 1997.
The goal of Bloodhound is to push this mark above 1,000mph (1,610km/h).
Jonathan.Amos-INTERNET@bbc.co.uk and follow me on Twitter: @BBCAmos