CO2 cuts claim sees ministers challenged by experts
By Roger Harrabin
BBC environment analyst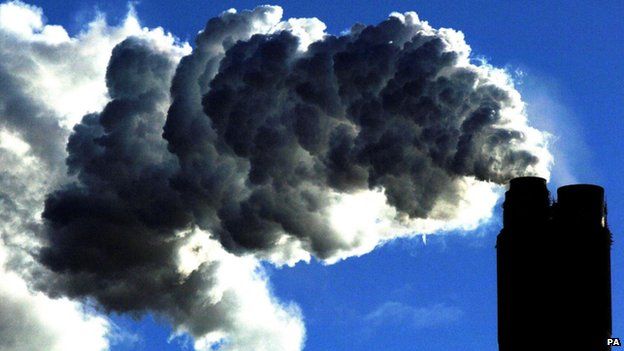 The UK government's claim to lead the world in cuts of carbon emissions has been challenged by researchers.
UK emissions are rising overall because current calculations omit pollution from goods imported from countries like China, Leeds University experts say.
But the government says it follows internationally agreed rules on CO2 accounting.
The Department for Environment, Food and Rural Affairs (Defra) is to publish the analysis on its website later.
But the Leeds report's authors say the UK's long-term CO2 targets would have to be tightened if Britain took responsibility for the extra emissions stimulated by the demand from British consumers for overseas goods.
But the cuts were outweighed by a rise of 280m tonnes created abroad during the manufacture of goods imported to Britain.
At present, the UK is committed by law to reducing CO2 emissions 80% by 2050 based on 1990 levels.
The report calculates that if the UK took responsibility for its global emissions, it would need to achieve the 80% cut 10 years earlier - by 2040.
And it shows that net traded emissions have doubled in the past 20 years, while emissions within the UK have reduced by 26%.
Its lead author Prof John Barrett said: "The government is fully aware that other nations are polluting on our behalf but won't take full responsibility for the emissions we outsource."
He told the BBC that most of the UK's most "carbon-intensive" products were imported, which were a "significant additional burden".
Prof Barrett said he did not want to scrap domestic CO2 accounting, but to publish domestic and consumption CO2 accounts side by side.
He said this would create a more accurate picture for the Paris climate summit in December of where responsibility for climate change lies.
It would also change attitudes in the UK towards goods and materials – ensuring they were not thrown away while they still had a useful life, he claimed.
"This is about adding a complimentary approach so we can look at additional policy options beyond just changing the energy system, to changing our lifestyles and tackling the social practices which we all conduct," he said.
Prof Barrett said there would be a huge shift in attitudes to motoring. "For most people, a car sits on the tarmac 95% of the time.
"Think of all the CO2 embodied in the manufacturing of a car. It's far more efficient in CO2 terms to join a car club where the car gets used consistently."
But Lord Gummer, chairman of the independent advisory Climate Change Committee, which counsels the government and parliament on the issue, said current accounting methods were appropriate.
"We have considered using total emission figures more widely, but that would mean emissions being double counted - once in China's total and once in ours.
"More importantly, we have direct control over home-produced emissions . Manufacturing methods, carbon intensity, and energy distribution in China are outside our direct control."
The report says the cheapest way to achieve CO2 savings is for the government to establish an Energy Demand Reduction Target.
Simon Bullock from Friends of the Earth said: "The UK's three leaders pledged to protect developing countries from climate change. We can't keep using accounting tricks to avoid our responsibility."
But Ruth Davis from Greenpeace said: "I don't think it's about illusions of carbon cuts or not.
"Emissions from manufacturing will need to fall wherever they are happening – in China, the US, India or anywhere else."
Follow Roger on Twitter @rharrabin
Related Internet Links
The BBC is not responsible for the content of external sites.