Wet wipe litter on UK beaches up 50%, report suggests
By Claire Marshall & John Harrison
BBC News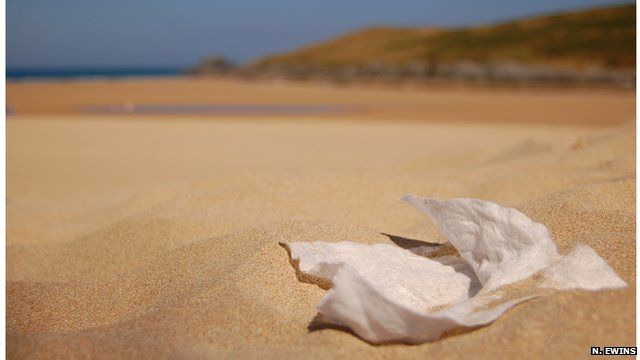 This is because many people put them down the toilet instead of in the bin, said the MCS.
Rubbish on UK coasts rose by 6.4% from 2013 to 2014, it said in a report.
Beaches in Wales had the highest litter levels, followed by those in England, while rubbish on coastlines in Scotland and Northern Ireland fell, it said.
Wipes do not easily disintegrate and sewerage systems are not able to process them.
They can block sewers, and when they are washed into the sea they can end up on beaches.
The report - published as part of the MCS's annual Great British Beach Clean - was based on litter found by more than 5,000 volunteers on 301 UK beaches, from 19 to 22 September last year.
Volunteers collected 2,501 bags of rubbish from coastlines, including 273,747 items of litter. They collected 2,457 pieces of rubbish per kilometre - up from 2,309 bits per kilometre in 2013.
Discarded items found included a colostomy bag, a plastic hand, a piping gun nozzle, a bra strap and - on one beach alone - nine pairs of shoes.
Rubbish levels increased on beaches in England by 10.1% from 2013 to 2014 - with litter increasing every year since 2011
Beaches in the South West had the most rubbish in England, while the least litter was found in the North West
Welsh beaches were the dirtiest in the UK - more than two-and-a-half times the UK average - with litter increasing by 46%
Litter in Scotland decreased for the second year in a row - falling by 8%
6,195 pieces of litter were found on five beaches in Northern Ireland - a decrease on 2013
The Channel Islands had lower litter levels than the UK - though the amount increased by 19%
An average of 35 wet wipes were found for every kilometre of beach cleaned in 2014, up from 23 per kilometre the previous year.
Litter on UK beaches
Dramatic increase since 2013
50%
Increase in wet wipe litter
6.4% increase in rubbish on coast

273,747 items of litter

2,457 pieces of rubbish per km

2,501 bags collected
"Our sewerage systems weren't built to cope with wet wipes," MCS beach watch officer Charlotte Coombes said.
"When flushed they don't disintegrate like toilet paper, and they typically contain plastic so once they reach the sea, they last for a very long time.
"They can cause blockages in our sewers, and then, everything else that has been flushed down the loo can either back up into people's homes, or overflow into rivers and seas.
"Overflows also happen during excessive rainfall or if the plumbing hasn't been connected up properly, meaning the wrong pipes head straight to the sea.
"That's when we find sewage-related debris, including wet wipes, on the beach,"
According to the MCS, a number of British water companies have already reported the problem. Southern Water said wet wipes were "causing havoc" with sewers in Kent.
Research for United Utilities in the North West showed one in 10 households had suffered blocked toilets and drains owing to baby wipes, make-up wipes and other non-flushables going down the pan.
Overall, the report showed a "rising trend" of rubbish on UK shores over the last 20 years, the MCS said, adding that "clearly not enough is being done".
The figures indicate that plastic is still the most common litter found on UK beaches. There was also a significant amount of rubbish from commercial and recreational fishing.
The MCS is calling on the government to implement a national marine litter action plan to address the main sources of rubbish in the UK's seas, from the public, fishing, shipping and sewage-related debris. The government is currently consulting on the measures needed to meet EU standards on marine litter.
Dr Sue Kinsey, the society's senior pollution policy officer, said the government needed to produce marine action plans for England and Wales, similar to those in Scotland and Northern Ireland.
"There has to be a three-pronged attack on marine litter led by new policies and action from government, new practices from industry and behaviour change from the public," she said.
Related Internet Links
The BBC is not responsible for the content of external sites.